Egypt Tour Packages from Cairo are perfect for those looking to experience the best of Egypt's famous heritage sites. These packages often include visits to landmarks such as the Great Pyramids, the Sphinx, and the Valley of Kings in Luxor. Depending on your specific package, you can also visit other attractions like Mount Sinai or explore Alexandria on a Mediterranean cruise.

Additionally, many packages feature all-inclusive sightseeing tours that incorporate fascinating historical lessons from experienced guides along the way. Hotel accommodation is usually included in most tour packages as well as transportation between cities and destinations throughout Egypt. Whether you want an adventure that takes you through ancient tombs or one filled with modern city exploration, there's an Egyptian tour package tailored just for you!
If you're looking for an amazing trip to Egypt, then a tour package from Cairo is the perfect way to see this fascinating country. With its ancient monuments, world-famous landmarks and vibrant culture, visiting Egypt is both exciting and educational — which makes it an ideal destination for travelers of all ages. When planning your Egyptian holiday, there are so many great options when it comes to tour packages from Cairo.

You can opt for a private guided experience that takes you through some of the most iconic sites in Egypt like the Pyramids of Giza or Valley of Kings. Or if budget isn't an issue, take a luxurious Nile River cruise with stops at major cities along the riverbank such as Luxor and Aswan. There are also plenty of day trips available ranging from jeep tours in Sinai desert to camel rides along the coast near Alexandria and more!

No matter what kind of experience you're after, booking a tour package will ensure that everything runs smoothly during your stay in Egypt without any unexpected surprises or last minute changes. Plus they usually come with hotel accommodations included making your stay even easier! On top of that many packages offer additional benefits like cultural activities and workshops on traditional music or handicrafts — giving you even more insight into Egyptian life beyond sightseeing destinations alone.

Overall taking advantage of one these vacation packages is an easy way to get around Egypt while ensuring comfortability throughout every step of your journey!
Best Egypt Tour Packages
If you're looking for an adventure of a lifetime, then look no further than Egypt. With its ancient history, stunning deserts and world-famous monuments, it is the perfect destination for anyone seeking to explore the wonders of the Middle East. And with so many Egypt tour packages available on the market today, there is something to suit every budget and travel style.

For those wanting to experience all that Egypt has to offer in one go – from exploring Cairo's bustling markets and visiting sites such as the Giza Pyramids to relaxing by the Red Sea or floating down Nile River – there are several comprehensive "all-inclusive" tours available. These usually include flights, transfers between cities and attractions as well as accommodation in 4-5 star hotels along with breakfast daily included. Popular itineraries include 9 day trips which take visitors around some of Egypt's most iconic sights including Luxor Temple & Karnak Temples, Valley of Kings & Queen Hatshepsut Temple plus more!

If you want something a little more tailored towards your own interests then private tours may be just what you need! Many companies are now offering customised experiences where they can create unique holiday packages based on your wishes – whether it's exploring art galleries in Alexandria or shopping in Aswan bazaars – these types of holidays enable you to get off beaten path locations not often visited by other tourists!
All Inclusive Egypt Tour Packages
Are you looking for the ultimate vacation experience? An all-inclusive Egypt tour package may be just what you need. From the ancient pyramids of Giza to the bustling markets of Cairo, a trip to Egypt provides an unforgettable journey through time and culture.

Whether you're a history buff or simply looking for some rest and relaxation on a beautiful beach, an all-inclusive tour package is an ideal way to explore this unique country. When booking your all-inclusive Egypt tour package, consider which region of the country best suits your interests and budget. Do you want to visit Luxor's Valley of Kings or take in its vibrant nightlife?

Or perhaps wander through Aswan's desert oasis before exploring Alexandria's Mediterranean coastline? Whatever destination appeals most to you, there are countless options available with comprehensive packages that include accommodations at luxury hotels as well as transportation between cities by air or land. Most tours also provide access to renowned sites such as Abu Simbel temple complex near Lake Nasser; Karnak Temple in Luxor; St Catherine's Monastery in Sinai; the tombs at Saqqara necropolis outside Cairo; Edfu temple near Aswan; plus many more must-see attractions throughout their itineraries.
Egypt Tour Packages from Usa
Egypt has long been one of the most popular tourist destinations in the world, and for good reason. From its ancient monuments to its breathtaking landscapes, Egypt is a land like no other. If you're looking to take an unforgettable vacation to this amazing country, then consider booking a tour package from USA.

These packages provide everything you need for a hassle-free trip including flights, accommodations, sightseeing tours, and more! One of the most popular Egypt tour packages from USA takes travelers on an 8-day journey through some of the highlights of this fascinating country. Beginning in Cairo and ending in Aswan – with visits to Luxor and Abu Simbel along the way – you'll get an up-close look at iconic sites such as Giza's Pyramids and Sphinx as well as Valley of Kings tombs that date back thousands of years.

You'll also have plenty of time for shopping or exploring local markets before heading off to your next destination! If you want something even more comprehensive than our 8-day package then we offer longer itineraries that explore deeper into Egypt's many wonders. For example, our 14-day Ultimate Egypt Tour Package includes all major attractions plus stops at several lesser known historical sites throughout Upper and Lower Egypt such as Hatshepsut Temple near Luxor or El Kab temple near Edfu which are often overlooked by other tours operators who focus mainly on Ancient Egyptian landmarks located closer to Cairo or Luxor city centers.
Egypt Tour Packages With Flights
If you're looking for an unforgettable experience, why not consider a tour package to Egypt? From the majestic pyramids and ancient temples of Cairo to the stunning Nile River Valley, there is plenty to explore in this magical country. With so much history and culture around every corner, it can be overwhelming trying to plan your own itinerary.

That's why many people choose a pre-packaged tour with flights included—it takes all the worry out of planning while still allowing you to see everything Egypt has to offer. When choosing an Egypt tour package that includes flights, you want one that provides both convenience and value. The best tours will include airfare from your home city or nearby international airport as well as accommodations at carefully selected hotels throughout your stay in Egypt.

Depending on which package you select, some may also include meals or extra activities such as guided tours or visits to archaeological sites like Luxor's Valley of Kings and Karnak Temple Complex. No matter what type of experience you are looking for—whether it's exploring world-famous landmarks like the Pyramids of Giza or discovering hidden gems off the beaten path—there is sure to be a pre-packaged tour with flights available that suits your needs perfectly. You can also customize certain aspects of these packages depending on where exactly in Egypt you would like visit and how long you plan on staying there.
Egypt Pyramid Tour Packages
If you're looking for a once-in-a-lifetime experience, why not consider taking a tour of the ancient pyramids in Egypt? A trip to this incredible destination will take you back thousands of years and provide an unforgettable experience. And with so many different Egypt pyramid tour packages available, it's easy to find one that meets your needs and budget.

For starters, there are day tours that will take you to some of the most impressive sites around Cairo. These include stops at Giza Plateau, where the Great Pyramid stands guard over its three smaller siblings; Saqqara Necropolis; Dahshur Pyramid Complex; and Memphis City. At each site, experienced guides will explain the history behind these remarkable monuments and answer any questions you may have along the way.

You'll also get plenty of time for exploring on your own and taking photos – essential memories from such an extraordinary journey! Then there are overnight trips which give visitors more time to explore all that Egypt has to offer as well as visit some lesser known sites like Abu Simbel Temple or Edfu Temple with its huge granite statues dedicated to Horus – son of Isis & Osiris . On these extended tours , travelers usually stay in 5-star hotels located near major attractions like The Valley Of Kings or Karnak Temples Complex .

Here they can enjoy luxury accommodations while still being close enough to all their destinations without having too much travel between them . Some even include dinner cruises on Nile River !
All Inclusive Trip to Cairo Egypt
Are you looking for an unforgettable vacation experience? Why not consider taking a trip to Cairo, Egypt? A visit to this ancient city is the perfect way to see some of the world's most iconic sights and explore its rich culture.

Plus, with plenty of all-inclusive packages available, it can be easier (and more affordable!) than ever to plan your getaway. Cairo is home to a variety of attractions that will appeal to visitors from all walks of life. History buffs will be delighted by sites like the Great Pyramid and Sphinx at Giza or the Egyptian Museum in Tahrir Square.

Art lovers should make sure they don't miss out on Khan el Khalili bazaar or Coptic Cairo's churches and monasteries while foodies won't want to pass up on sampling traditional dishes like koshary and ful medames . Lastly, if you're interested in experiencing even more local flavor, then take a Nile cruise or go for a camel ride near Luxor Temple! When booking your trip, there are many different types of all-inclusive packages offered that can help make planning stress free.

These typically include flights from major airports around the world as well as accommodation options ranging from budget guesthouses or hostels to luxury five star hotels – so there's something suitable for everyone regardless of their budget!
Cairo And Alexandria Tour Packages
Are you looking for an exciting vacation spot in Egypt? Consider taking a tour package to Cairo and Alexandria! These two cities offer travelers a variety of attractions and activities, making them ideal destinations for both culture seekers and beach lovers alike.

From bustling souks to the awe-inspiring Pyramids of Giza, there's something for everyone in these two vibrant cities. Cairo is home to some of the most iconic landmarks in Egypt, including the Great Pyramid at Giza, which is considered one of the Seven Wonders of the Ancient World. Tour packages typically include visits to other points of interest like The Egyptian Museum – where visitors can explore thousands of artifacts from ancient times — or Coptic Cairo – known as "Old Cairo" due to its abundance of churches, monasteries and mosques that have been standing since early Christianity arrived in Egypt.

For those seeking more adventure during their visit, consider exploring Khan el Khalili bazaar – this sprawling market offers everything from souvenirs to traditional handicrafts and street food snacks. Alexandria provides a different side of Egyptian life with its Mediterranean atmosphere by day and glamorous nightlife by night. Many tours will take travelers down famed Corniche Road along Alexandria's waterfront promenade – offering stunning views across the harbor – before discovering other highlights such as Pompey's Pillar or Qaitbay Citadel (both built centuries ago).
Egypt Tour Packages from Uk
Are you looking for a unique and exciting travel experience that will take your breath away? If so, an Egypt tour package from the UK might be just what you need. From incredible ancient monuments to awe-inspiring landscapes, there's something for everyone in Egypt.

Whether it's your first time visiting this remarkable country or not, here are some great reasons why you should consider booking an Egyptian holiday package from the UK. The Great Pyramids of Giza: The most iconic site in all of Egypt is undoubtedly the Great Pyramids of Giza on Cairo's west bank. This UNESCO World Heritage Site consists of three massive pyramids – Khufu, Khafre and Menkaure – as well as several smaller ones which were built by ancient Egyptians over 4500 years ago.

You can explore these breathtaking structures up close with a guided tour or simply admire them from afar during a memorable sunset cruise along the Nile River. Sightseeing Tours: A visit to Egypt isn't complete without taking part in one (or more) sightseeing tours! There are plenty of options when it comes to exploring this fascinating country; whether it's camel rides through the desert sands outside Luxor or snorkeling trips around Ras Mohammed National Park near Sharm El Sheikh – you're sure to have an amazing time no matter where your itinerary takes you!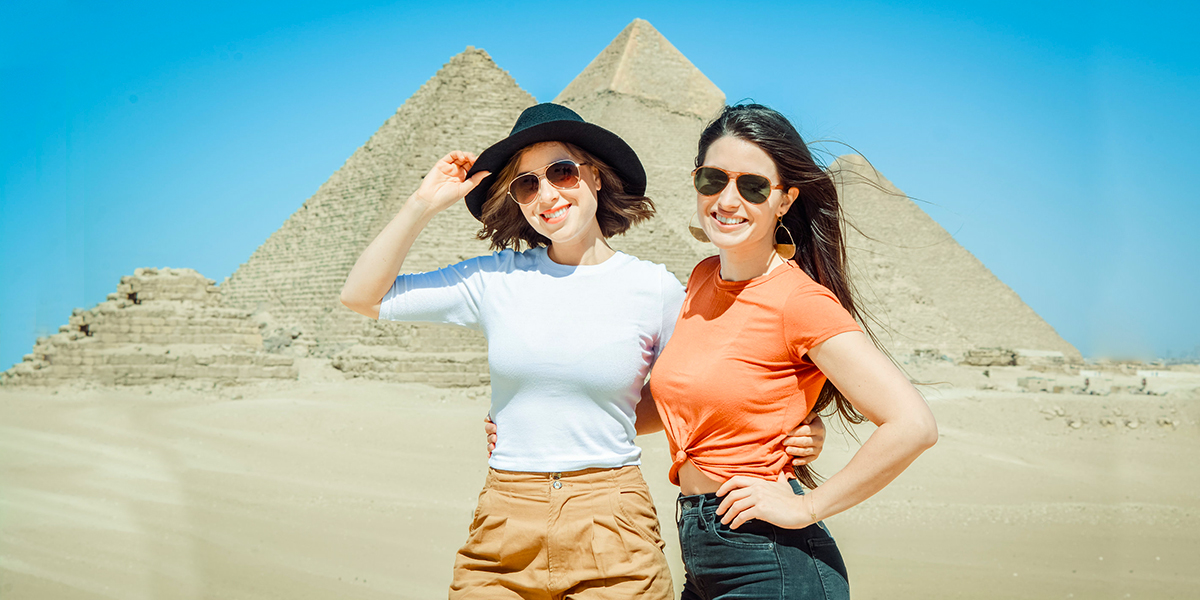 Credit: www.egypttoursportal.com
What is Average Cost of a Tour of Egypt?
Traveling to Egypt is a wonderful way to experience the ancient culture and history of one of the oldest civilizations in the world. But, while a trip to this amazing country can be an unforgettable experience, it can also come with a hefty price tag. Many people are curious about how much an average tour of Egypt costs, so let's take a look at some factors that contribute to determining the cost.

Accommodations: One major factor in calculating your total tour cost will be accommodations. In Egypt, you have several options for where you stay- from luxury hotels and resorts on the Red Sea beachfronts to hostels and budget guesthouses in downtown Cairo. Prices for these vary greatly depending on location and quality, but generally speaking you should expect anywhere from $20-200 per night for basic accommodations (not including meals).

If you plan on indulging yourself more luxuriously during your trip, then nightly rates could easily go up into the hundreds or even thousands range depending upon what type of resort or hotel you choose. Transportation: Another important factor when estimating your overall travel expenses is transportation costs within Egypt itself; whether it's public buses or private taxis/cars – prices really depend on which method of transport you prefer as well as distance traveled (the longer distances usually involve higher fares).
Is Egypt Cheap for Tourists?
When it comes to planning a trip, budgeting is often the biggest concern for travelers. With all of the amazing attractions that Egypt has to offer, you may be wondering if traveling there will break your bank account. The answer is yes and no – depending on where you go and what activities you do!

Egypt can be a great destination for budget-conscious travelers. When considering costs, keep in mind that most things are negotiable so don't be afraid to haggle for better prices. To save money on accommodations, consider staying at a hostel or guesthouse instead of more expensive hotels; prices vary widely but expect to spend around $10-$50 per night depending on location and amenities offered.

Food can also be relatively inexpensive in Egypt; street food vendors sell delicious meals such as falafel sandwiches, shawarma wraps and koshari (a popular rice dish) at very low cost while sit down restaurants tend to charge slightly higher prices but still remain affordable compared with other countries. If you plan ahead by shopping at local markets or cooking your own meals in your accommodation, then this could help reduce overall expenditures significantly! Transportation throughout the country is quite reasonable; buses are generally the cheapest option while taxis aren't too expensive either (although make sure to agree on an approximate fare before getting inside).
How Many Days are Enough for Egypt?
Egypt is a country with so many attractions that it can be hard to decide how much time you should spend there. With its ancient monuments, stunning beaches, and vibrant culture, Egypt has something for every traveler. So the question is: How many days are enough for Egypt?

And the answer depends on what type of traveler you are and your preferences. For those who want to experience the best of Egypt's historical sites and cultural attractions, at least 10 days would be recommended. This amount of time will give travelers enough flexibility to explore some of the most iconic destinations in Cairo such as The Great Pyramids of Giza or Saqqara Necropolis and Luxor's Valley of Kings.

Additionally, a few days could also be spent exploring Alexandria or Hurghada along with other popular cities like Aswan or Dahab. If visitors want to take part in adventure activities such as snorkeling or desert safaris then they should plan for around two weeks in order to fully enjoy their trip without feeling rushed through each destination. During this period they could visit Abu Simbel Temples or sail down the Nile River while stopping off at various ports along the way including Kom Ombo temple ruins near Edfu (east bank) before reaching Aswan which houses one of Pharaoh Ramses II majestic rock-cut temples located at Philae Island on Lake Nasser's southern shoreline .
What is the Best Way to Tour Egypt?
Egypt is one of the most fascinating countries in the world and offers some of the best tourist attractions. There are many ways to explore this beautiful country, but here we will discuss what is arguably the best way to tour Egypt. First and foremost, it's important to note that it's very easy (and affordable) to travel around Egypt by air or train.

Both modes of transportation provide a comfortable journey with plenty of stops along the way so you can take your time and soak up all that Egypt has to offer. Additionally, there are several guided tours available throughout major cities like Cairo and Luxor for those who would prefer organized sightseeing trips without having to plan their own route. When planning your trip, make sure you set aside enough time for each destination as there is so much more than just the pyramids in Egypt!

Consider spending at least four days exploring Cairo before moving onto Luxor or Aswan; both cities offer an array of ancient monuments such as temples, tombs, statues and obelisks which should not be missed! Be sure also to check out some lesser-known sites such as Karnak Temple Complex near Luxor — home to numerous archaeological ruins including a huge temple complex dedicated to Amun Ra — or Abu Simbel near Aswan which features two massive rock cut temples built over 3200 years ago by Pharaoh Ramses II.
EGYPT holiday tour packages (Step-by-Step)
Conclusion
Are you looking to explore the wonders of Egypt? Look no further than our amazing Cairo tour packages! With a great range of affordable and convenient options, we have something for everyone.

Our tours are designed to give you an unforgettable experience while exploring the ancient history and culture of this incredible country. From visiting iconic landmarks such as the Giza Pyramids and Great Sphinx, to taking luxurious Nile River cruises, our custom-made packages will help make your trip one that you'll never forget! So why wait any longer?

Book now and get ready for an adventure like no other!