Want to tell an exciting story of Morocco And Egypt Tours? Morocco and Egypt are two of the most popular tourist destinations in North Africa. A Morocco and Egypt tour will provide an amazing experience for any traveler looking to explore both countries. Tour packages typically include accommodation, transportation, meals, and guided sightseeing tours that cover major attractions such as the Pyramids of Giza in Cairo, Luxor Temple in Luxor, Fes Medina, and Volubilis ruins in Morocco.

Depending on your package you may also be able to take day trips to places like Marrakech or Aswan. Both countries offer a wealth of culture and history that is worth experiencing firsthand!
If you're looking for an amazing travel experience, a tour of Morocco and Egypt is a perfect choice. These two countries have some of the most awe-inspiring locations in the world, from ancient monuments to stunning beaches. Taking a guided tour through both countries allows you to explore their unique cultures and landscapes in depth.

A tour of Morocco usually begins in Marrakech, where you can find bustling markets filled with vibrant colors and exotic scents. From there, head out into the dramatic Atlas Mountains or visit one of the many ancient cities like Fez or Meknes. The Sahara Desert is also not far away – it's easy to arrange a camel ride or 4X4 safari here so that you can take in this otherworldly landscape up close.

Once your time spent exploring Morocco comes to an end, cross over into Egypt by plane or boat for a whole new adventure full of history and culture! In Egypt, your journey starts off at Cairo's iconic pyramids – be sure not to miss them! Then move on down south along the Nile River towards Luxor where countless monuments lie nestled among lush fields and palm trees – places like Karnak temple complex, Valley Of The Kings & Queens, Luxor Temple & more await discovery here!
Best Time to Visit Egypt And Morocco
Visiting Egypt and Morocco can be an unforgettable experience, with its stunning landscapes, exotic culture, and incredible history. But when is the best time to visit these two countries? Let's take a look at what each season offers.

Winter (December-February) The winter months in both Egypt and Morocco are the coldest of the year. In Cairo, temperatures range from a high of 18 degrees Celsius during the day to a low of 4 degrees Celsius at night, while Marrakech has an average temperature between 6-18 degrees Celsius.

Although it's chilly at night you will still get plenty of sunny days making sightseeing more enjoyable without getting too hot or sweaty! However, rain is common during this season so make sure you pack some waterproof gear if traveling in December/January. Additionally, due to the Christmas holiday prices may be slightly higher than in other seasons so it's worth planning ahead for that one!

Spring (March-May) The spring season brings warmer weather with temperatures ranging from 15-25 degrees Celsius in Cairo and 7-20 degrees Celsius in Marrakech – perfect for exploring outdoors! The sun shines regularly throughout these months so you won't have to worry about bad weather ruining your plans either way!

You'll also find fewer crowds as most people tend to visit during summer when the school holidays start. It's worth noting that during Easter prices may go up significantly due to increased demand for flights and accommodation around this period.
Morocco to Egypt Cruise
If you're looking for a unique, once-in-a-lifetime experience that combines culture, history, and outdoor adventure all in one place, then consider taking a Morocco to Egypt Cruise. This incredible journey will take you through two of the most culturally and historically rich countries in Northern Africa – Morocco and Egypt. Along the way, you'll be able to explore ancient cities like Casablanca and Cairo while visiting fascinating sites such as the Pyramids of Giza or the Sahara desert.

The best thing about this cruise is that it offers something for everyone – whether they are interested in history or nature! The itinerary usually starts off with stops at various ports along the coast of Morocco before heading east toward Tunisia. During your stay in Tunisia, there are plenty of opportunities to go sightseeing around Tunis; visit Sousse, or even take an excursion out into the Sahara Desert itself!

After leaving Tunisia behind you'll cross over into Egypt where your first stop will likely be Alexandria before continuing on downriver towards Cairo via Luxor & Aswan. Once in Cairo, there's time to see all those iconic sites like The Great Pyramids Of Giza & The Sphinx plus many more lesser-known but equally impressive monuments from Ancient Egyptian times – not forgetting visits to local markets for some serious souvenir shopping too!
TourRadar Morocco And Egypt
Are you looking for the perfect vacation to Morocco and Egypt? Look no further than TourRadar! TourRadar is an online travel company that specializes in creating unforgettable, once-in-a-lifetime experiences for its customers.

With a wide variety of tours available, they are sure to have something that will fit your needs. The Morocco & Egypt tour is one of their most popular trips. This 10-day tour starts off in Casablanca, where you'll explore the old medina and modern city center before heading south to Marrakech.

Here you can take part in a traditional cooking class or wander through the souks (markets) while haggling with local merchants. After Marrakech comes Merzouga, where you'll spend time exploring sand dunes on camelback before crossing over into Algeria and then traveling back east along the coast towards Algiers. From there it's onto Cairo, one of the oldest cities in existence!

Visit ancient sites such as Giza Necropolis (home of The Great Pyramid) and Saqqara Pyramids as well as modern gems like The Egyptian Museum and Khan el Khalili Bazaar – all included with this package! You'll also visit Luxor; home to Karnak Temple Complex – the largest temple complex ever built – followed by Aswan where you'll enjoy beautiful views from atop Abu Simbel Temple before finally flying back home from Cairo International Airport.
Cruise And Morocco, Egypt Turkey
If you're looking for an adventure that combines the best of both worlds, a cruise to Morocco, Egypt, and Turkey is definitely worth considering. Not only will you get to explore some of the most beautiful destinations in the world, but you'll also be able to experience different cultures and ancient civilizations along your journey. This type of cruise offers something for everyone—from history buffs and nature lovers to those seeking relaxation on white-sand beaches or thrilling experiences like sandboarding down a dune in the Sahara Desert.

The great thing about this kind of trip is that it can be tailored according to individual needs and interests: there are many options available when it comes to itineraries and activities. Most cruises include sightseeing trips around iconic sites such as the Pyramids of Giza in Egypt or exploring cities like Marrakesh with its vibrant souks (markets) in Morocco. You'll also have plenty of opportunities for cultural immersion such as visiting traditional villages or witnessing rituals like camel riding into desert oases at nightfall while enjoying Arabian music played by local nomads.

. Other popular excursions include taking guided tours through spice markets filled with exotic aromas; getting pampered with hammams spa treatments; enjoying water sports activities near crystal clear waters; learning how carpets are made from wool threads; tasting delicious fresh seafood dishes prepared by authentic recipes…the possibilities are endless!
Morocco Tours
Morocco is an exciting and exotic destination that offers travelers a unique experience. From the bustling medinas of Marrakech to the pristine beaches of Essaouira, Morocco has something for everyone. If you're looking for an unforgettable adventure, then a Morocco tour is just what you need!

A Morocco tour can be tailored to your interests and budget. Whether you're looking for a relaxing beach getaway or an action-packed exploration of this ancient land, there are plenty of options available. Most tours include guided visits to some of Morocco's most iconic locations such as the Atlas Mountains, Fez Medina, and Ait Benhaddou Kasbah—all while staying in comfortable accommodations along the way.

You can also choose from different types of activities while on your tour depending on your preferences and interests. There are cultural experiences like visiting local markets and learning about traditional Moroccan cuisine; outdoor adventures such as hiking in the Atlas Mountains or camel trekking through desert oases; shopping trips to pick up handmade goods from Souks across Morocco; culinary classes where you learn how to make tagines; photography expeditions so that you can capture all your amazing memories; day trips to explore nearby cities like Casablanca or Rabat…the possibilities are truly endless! No matter which type of activities you decide upon during your travels, one thing is sure: You will leave with countless stories and wonderful memories that will last forever.
Egypt, Jordan, Morocco Tour
Have you ever dreamt of exploring the exotic and ancient countries of Egypt, Jordan, and Morocco? If so, now is your chance to make that dream come true! With a guided tour of these three countries, you'll get the opportunity to experience some of the most incredible sights in the world.

From awe-inspiring monuments in Egypt like the Great Pyramid of Giza or Luxor Temple to beautiful landscapes filled with breathtaking vistas in Jordan such as Petra or Wadi Rum Desert – there are countless sites for travelers to explore on this tour. In addition to soaking up all these amazing landmarks, visitors will also have plenty of time for shopping at bustling bazaars and savoring delicious local cuisine from each region. In Egypt, you'll marvel at Cairo's largest mosque complex Al Azhar Mosque which dates back to 971 AD as well as wander through its many historical streets while learning about its rich history.

You can also take a cruise down the river Nile onboard a traditional Felucca boat and visit ancient temples dedicated to various gods; it's an unforgettable experience! Don't miss out on visiting Aswan High Dam either—it's an engineering masterpiece constructed during the 1960s over River Nile.
Egypt And Jordan Tours
If you're looking for an unforgettable travel experience, then consider taking a tour of Egypt and Jordan. This two-country combo is packed with historical sites, stunning scenery, and plenty of adventure. From the Great Pyramids to the Red Sea, there are countless wonders that await you on this incredible tour!

Egypt is home to some of the most iconic archaeological sites in the world, like the Giza Necropolis and the Valley of Kings. You can explore ancient temples such as Karnak or take a hot air balloon ride over Luxor – it's up to you! Don't forget to pay a visit to Cairo's bustling markets before venturing into desert oases like Siwa or Bahariya Oasis.

In Jordan, your journey begins in Amman where you can marvel at Roman ruins and Islamic architecture. Then head south towards Petra – one of the Seven Wonders of The World – for an awe-inspiring day trip along its cobbled streets filled with majestic monuments carved from sandstone cliffsides. Afterward, be sure to swing by Wadi Rum Desert for some epic stargazing under desert night skies before making your way back north along The King's Highway towards Madaba & Mt Nebo (where Moses viewed The Promised Land) – definitely not something you won't miss out on during your travels here!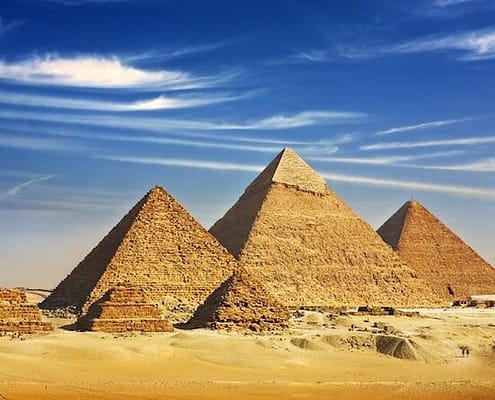 Credit: www.egypttoursplus.com
How Many Days is Enough for Morocco?
If you're considering a trip to Morocco, you may be wondering how many days are enough for your journey. The answer depends largely on what kind of experience you're looking for and the type of activities that interest you. But generally speaking, most travelers recommend spending at least five days in this North African country to make sure they get the full Moroccan experience.

For starters, a five-day stay allows visitors plenty of time to explore Morocco's vibrant cities. From Fez and Marrakesh to Rabat and Casablanca, each destination offers its own unique flavor with historic palaces, stunning mosques, colorful markets, and more all just waiting to be discovered. A few days exploring these urban hubs will give any traveler an appreciation for the local culture and architecture while also providing plenty of opportunities for bargaining in the souks or simply soaking up some sun by a rooftop pool bar.

Of course, if sightseeing isn't your thing then there are still plenty more activities available within Morocco's borders – from camel riding excursions through the Sahara Desert to surfing lessons along coastal towns like Taghazout or Agadir – leaving no shortage of options when it comes to packing your itinerary over 5 days. Even better yet is that due to its close proximity between Europe & Africa, both cultures have had quite an influence here making it easy (and fun!)to sample cuisine from multiple continents during one trip!
Should I Go to Egypt Or Morocco?
If you're looking for a unique, exotic travel experience, it can be hard to decide between Egypt and Morocco. Both countries boast stunning landscapes and ancient cultures that will leave you with plenty of amazing memories. So, should you go to Egypt or Morocco?

The answer really depends on what type of experiences you're looking for as each country has something different to offer. In Egypt, travelers can explore the Great Pyramids of Giza and marvel at the magnificent architecture in Cairo. You'll also find bustling markets selling everything from spices to handmade crafts – perfect for picking up souvenirs!

When it comes to outdoor activities, there are plenty of opportunities for hiking in the desert and sailing down the Nile River. Plus, if beach life is more your style then head over to one of Egypt's stunning Red Sea resorts..

Morocco is an incredibly diverse destination offering incredible food experiences like tagines (a traditional Moroccan stew). There are also vast stretches of unspoiled coastlines along with impressive mountain ranges where trekking enthusiasts will find great joy! For history buffs there is no shortage either; explore imperial cities such as Fes or Marrakech that have been around since antiquity.

Shopping wise too Morocco offers a lot – visit souks (markets) in places like Fez or Essouira where bargaining skills come into play! Which one should you choose?
How Many Days in Egypt is Enough?
Egypt, one of the oldest civilizations in history, is a country that's full of incredible sights and experiences. But with so much to do and see, it can be hard to decide how many days you should dedicate to your trip. The answer really depends on what type of experience you want out of your visit.

If you're looking for a short but memorable holiday in Egypt, three or four days will give you enough time to explore some of the most popular attractions like the Pyramids of Giza and Cairo's famous Khan el-Khalili bazaar. On a shorter trip, consider visiting only two cities—Cairo and Luxor—and spending at least one day each exploring them thoroughly. This way, you won't have to rush through any sightseeing stops or skip over important sites due to lack of time.

If you want an even more comprehensive experience during your stay in Egypt, seven or eight days is probably ideal for most travelers. With this amount of time available for exploration, not only can you cover all the usual tourist spots such as The Valley Of Kings & Queens In Luxor but also take trips further away from Cairo like Dahab or Sharm El Sheikh (Red Sea resorts). Additionally if possible try including an overnight cruise on the Nile river which would let you witness the beauty along its banks while sailing toward Upper Egypt!
What is the Best Season to Visit Egypt?
When it comes to the best season for a visit to Egypt, there is no one-size-fits-all answer. Each season has its own unique advantages and drawbacks, so travelers should consider their particular needs when deciding which time of year is best for them. The most popular months to visit Egypt are October through April – known as the "high" or peak season.

During this period temperatures range from warm in the daytime (20°C/68°F) to cool at night (10°C/50°F), making sightseeing more enjoyable than during summer's sweltering heat. However, because this is also peak tourist season, prices may be higher and attractions can get quite crowded; those looking for lower prices and less competition might want to avoid these months. By contrast, May through September – often known as the "low" or off-season – sees significantly fewer visitors due to scorching daytime temperatures that regularly exceed 40ºC/104ºF).

Despite this extreme heat, however, there are benefits: hotel rates tend to be much cheaper than during the high season, meaning budget travelers could save considerable amounts by visiting in the summertime; additionally queues at sites such as museums will likely be shorter since visitor numbers are down. On the downside, though sightseeing opportunities may again be limited due to rising temperature levels outside; thus if you plan on spending much time outdoors then spring or autumn would probably better suit your needs.
14-Day Morocco and Egypt Tour – Small Group Tour | EgyptToursPlus.com
Conclusion
Are you looking for the perfect vacation to take this summer? Look no further than a Morocco and Egypt tour! On this exciting trip, you'll explore two of North Africa's most incredible countries.

You'll visit vibrant cities like Marrakech in Morocco and Cairo in Egypt, as well as stunning ancient sites like the Pyramids of Giza and Ait Benhaddou Kasbah. Get ready to be amazed by centuries-old mosques, palaces, fortresses, souks (street markets), desert oases, Mediterranean beaches, and much more. From beautiful landscapes to unforgettable cultural experiences – there's something for everyone on this unique adventure.

So what are you waiting for? Start planning your dream holiday today!