The event of the Alexandria Tour from Cairo is given below. Alexandria is a historical city located on the Mediterranean coast of Egypt. It is about two hours away from Cairo and can be reached by car, bus, or train. A tour of Alexandria from Cairo will start with an early morning pick-up in Cairo and then a short drive to reach the ancient city.

Once there, tourists can explore some of its amazing attractions such as Qaitbay Citadel, Catacombs of Kom El Shoqafa, Pompey's Pillar, and Bibliotheca Alexandrina among many others. Tourists can also enjoy long walks along the Corniche seafront promenade or visit one of the many museums like the Greco-Roman Museum or Royal Jewelry Museum that showcase artifacts dating back centuries ago. There are several diving spots around Alexandria where tourists can discover diverse aquatic life such as coral reefs teeming with colorful fish species while enjoying stunning views of crystal clear waters.

In addition to these activities, visitors may also opt for delicious seafood meals at any number of local restaurants along the waterfront before heading back to their hotel in Cairo after an exciting day trip to this wonderful coastal city!
If you're looking for an amazing day trip from Cairo, then consider taking a tour of Alexandria. Located on the Mediterranean Sea, this historic city has plenty to offer visitors in terms of sightseeing and experiences. Whether you want to explore ancient ruins or take a leisurely stroll along the beachfront promenade, Alexandria is sure to provide something for everyone.

A tour of Alexandria can begin at its famous library which was once one of the most important centers for learning and culture in the ancient world. Here you will find books from all over the world that span thousands of years of history. It's also very interesting to see how much progress has been made since then – it truly puts our modern-day conveniences into perspective!

You can also visit some other impressive historical sites like Pompey's Pillar and Catacombs which are both situated within walking distance from each other. Next up is a visit to Montazah Palace, where King Farouk once lived during his reign as Egypt's last monarch before being overthrown by Gamal Abdel Nasser in 1952. The palace itself is stunning and well worth exploring but if time permits it would be even better if you could go inside one or two rooms too – they really capture what life must have been like here during those times!
A Day Trip to Alexandria, Egypt | Travel Vlog
Can You Do a Day Trip from Cairo to Alexandria?
If you're looking for a fun and exciting day trip from Cairo, Egypt, then Alexandria is the perfect destination. Located on the Mediterranean coast, Alexandria offers plenty of things to do and see, making it an ideal spot for a short getaway. The city is known for its historical sites as well as its modern attractions such as beaches and nightlife.

Here's all you need to know about taking a day trip from Cairo to Alexandria. Getting There The best way to get from Cairo to Alexandria is by bus or train.

Buses leave almost every hour throughout the day from various stations in central Cairo (such as Ramses Station) and take between 3-4 hours depending on traffic conditions. Tickets can be bought at each station or online using any major credit card prior to your departure time; fares start around 25 EGP per person one way – definitely one of the most affordable options! Alternatively, there are several fast trains that run between both cities during peak times which usually take 2-3 hours; tickets cost around 75 EGP per person one way but can also be booked online with major credit cards if preferred.

Whichever option you choose make sure that your transport arrives on good time so that you can maximize your visit! Things To Do In Alexandria
Is It Worth Visiting Alexandria Egypt?
If you're looking for a memorable and educational vacation destination, Alexandria, Egypt is definitely worth a visit. This ancient city has been through centuries of history and still retains its charm and beauty while offering plenty of attractions to explore. Here's why it makes an ideal holiday spot:

First off, the city is home to some of the world's most iconic monuments and landmarks. The Great Library of Alexandria was once considered one of the Seven Wonders of the Ancient World – today it stands as an impressive reminder of how far civilization has come in such a short amount of time. In addition, visitors can explore other stunning sites like Pompey's Pillar or take in views from Qaitbay Castle which overlooks both land and sea.

There are also numerous museums here that will give you insight into Egyptian culture, artistry, and more throughout different eras. Another great thing about this destination is that there are many activities to do here aside from sightseeing. From beach resorts with warm Mediterranean waters for swimming to markets selling traditional goods like spices or jewelry – it really does have something for everyone!

Plus if shopping isn't your speed you can always try out some delicious local cuisine (such as Ful Medames) or go on boat rides along the coastlines where dolphins often appear! Finally, visiting Alexandria offers an amazing opportunity to experience hospitality at its finest firsthand; Egyptians are known for their generous spirit when it comes to hosting tourists!
How Much is a Train Ticket from Cairo to Alexandria?
Train travel is a popular and affordable way to get from Cairo to Alexandria, Egypt. But how much does it cost? In this blog post, we'll take a look at the current train ticket prices for the journey from Cairo to Alexandria.

The fare for a one-way ticket on the Egyptian National Railways (ENR) between Cairo and Alexandria can vary depending on the type of service you choose. For example, an express service costs around EGP 109 while an ordinary class ticket will set you back only EGP 38. All tickets must be purchased in advance either online or at any ENR office or authorized station before departure time as tickets are not available onboard trains.

Passengers also have other options when traveling by train between these two cities such as Intercity Express Services which offer more comfortable seating arrangements and services like free Wi-Fi access aboard some modernized coaches that run along this route. The fares for Intercity Express tickets range from EGP 110 up to EGP 140 per person depending upon your chosen seating class. Finally, there are Luxury City Link Trains that offer first-class amenities such as air conditioning units and reclining seats with extra legroom space but these come at higher rates ranging from EGP 250 up to EGP 300 depending upon your selected coach type and other factors like peak times etcetera.
Is Alexandria Close to Cairo?
If you're wondering whether Alexandria is close to Cairo, the answer is yes. Alexandria and Cairo are two of Egypt's major cities, located just 240 kilometers apart. That makes it a relatively short journey between them—about three hours by car or train along modern highways and railway lines.

The distance between Alexandria and Cairo isn't too far for many visitors to take day trips from one city to the other. In fact, this route has become increasingly popular in recent years as people explore both of these fascinating locations during their stay in Egypt. At first glance, it may seem like there's not much separating Alexandria from Cairo—both sit on the Nile Delta and share similar climates—but each city offers its own unique attractions that make them worth visiting separately.

For instance, while Cairo boasts some of the world's most iconic monuments (such as the Giza Pyramids) and an amazing array of museums, art galleries, and cultural attractions; nearby Alexandria can be enjoyed for its Mediterranean charm with gorgeous beaches framed by rolling hillsides covered with vineyards; plus its remarkable Roman remains including Pompey's Pillar and Catacombs of Kom el Shoqafa among others. So if you're thinking about exploring both Egyptian cities during your holiday in Egypt – don't worry!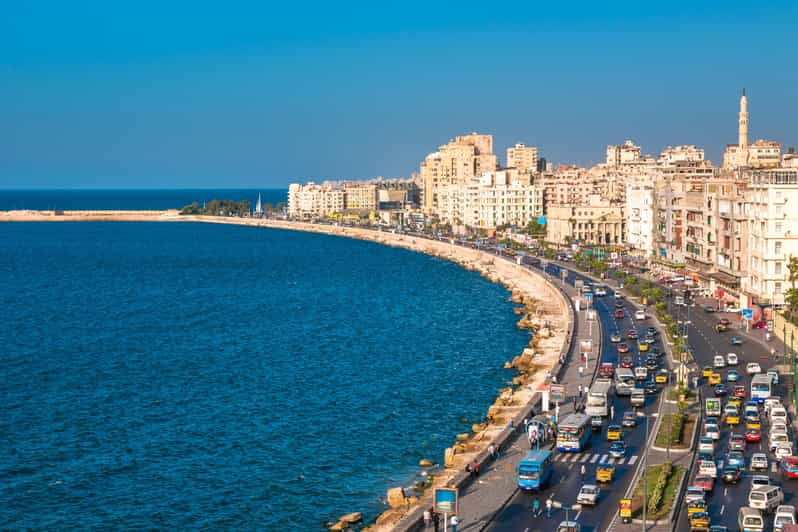 Credit: www.getyourguide.com
Private Guided Full-Day Tour to Alexandria from Cairo
If you're looking for an amazing day trip from Cairo, consider taking a private guided full-day tour to Alexandria. This beautiful coastal city is located just two hours away from the bustle of Egypt's capital and offers plenty of attractions that are well worth a visit. Your private guide will pick you up at your hotel in Cairo and drive you to Alexandria in air-conditioned comfort.

Once there, they'll take you around the city and show off some of its most iconic landmarks such as the breathtaking Citadel of Qaitbay, built by Sultan Qaitbay in 1477CE on top of the ruins of the ancient Pharos lighthouse; Pompey's Pillar – one of Alexander's greatest feats; Montazah Palace with its historical gardens; Catacombs which date back to Roman times; and many more! Your guide will also explain all about each site as well as life in this fascinating city so don't be afraid to ask questions! Not only do these sites offer great insight into history but they're also perfect spots for photography too.

Whether it's capturing stunning views or snapping selfies with friends and family, this journey is sure to provide lots of memorable moments that last long after returning home. Your private guide can even arrange lunch at a local restaurant where you can savor delicious traditional Egyptian cuisine before heading back towards Cairo later on during your day trip.
Transportation from Cairo to Alexandria
If you're looking to get from Cairo to Alexandria, there are a variety of transportation options available. From buses and trains to private vehicles, each option has its own advantages and disadvantages that should be considered when choosing the best mode for your trip. One of the most popular ways to travel between Cairo and Alexandria is by bus.

There are numerous companies operating regular bus services along this route such as Superjet, Nile Bus Express, and Delta Company among others. All offer comfortable seats with air-conditioning on board and fares start at around 70 Egyptian Pounds (EGP). The journey usually takes about three hours but can take up to four depending on traffic conditions in Cairo.

Tickets can easily be bought online or directly from the ticket desk at the station before departure time. Another way travelers can reach their destination is by train. There are several intercity trains that run daily from Ramses Station in downtown Cairo, taking passengers all the way up north until they reach Alexandria's El Raml Station located near Abbassia Square in the northern Alexandria city center.

Trains depart every hour during peak times like mornings and evenings so it's easy to find one that fits your schedule without much hassle. Prices range from 20 EGP for second-class tickets up to 50 EGP for first-class tickets – which also include meals onboard plus access to WiFi service throughout the journey.
Best Day Trips from Cairo
Cairo is the capital of Egypt, a bustling city full of ancient history and culture. While it's an incredible place to explore, sometimes you need a break from all the hustle and bustle. Luckily, Cairo is surrounded by some amazing places that are great for day trips!

Here are five of the best day trips from Cairo. 1. Giza Pyramids: The Giza Pyramids are one of the most iconic sites in all of Egypt. Located just outside Cairo, these majestic structures will transport you back in time as you wander among them and marvel at their beauty.

Once there, be sure to take time to explore the nearby Great Sphinx and Valley Temple before heading back into town at nightfall. 2. Saqqara & Dahshur: These two nearby archaeological sites offer plenty for those who love exploring ancient ruins without having to travel too far away from Cairo. Saqqara was once home to several important tombs during Ancient Egyptian times while Dahshur is known for its famous Bent Pyramid which was built around 2600 BC– making this site even older than Giza!

You can easily spend a day visiting both sights with plenty left over for other activities when you return home after dark!
Cairo to Alexandria by Car
When traveling in Egypt, taking a car from Cairo to Alexandria is an ideal way to experience the beauty of the country. With stunning landscapes and ancient monuments along the route, this journey offers travelers breathtaking views and plenty of opportunities for sightseeing stops. The drive between Cairo and Alexandria takes approximately 2-3 hours depending on traffic.

The route follows the Mediterranean coast through Port Said before turning inland towards Alexandria. Along the way, you'll pass by numerous historical sites including several Pharaonic temples and tombs, as well as Roman ruins such as Cleopatra's palace in Qaitbay Citadel which overlooks the Mediterranean Sea. Depending on your interests, there are also many other points of interest that can be explored during breaks from driving such as mosques, museums, or beaches like Agami Beach located southeast of Alexandria and popular with local Egyptians who come for swimming and sunbathing during summer months.

To make sure your trip goes smoothly it is important to plan ahead if possible so you know your exact destination before starting out from Cairo; this will help avoid getting lost during what can be a confusing drive due to winding roads or heavy traffic congestion at times (especially around major cities). If renting a car while in Egypt don't forget that they often require an international driver's license – so remember to check beforehand!
Day Tours from Cairo
If you're looking for the ultimate day trip from Cairo, look no further! With so much to see and do in this vibrant city, it can be hard to narrow down your choices. Luckily, there are plenty of great day tours available that offer a variety of activities and experiences.

Whether you're interested in ancient Egyptian history or exploring the natural wonders of Egypt, here's all the info you need on some of Cairo's best day trips. For those looking to explore ancient Egypt, there are several fantastic sites just outside of Cairo worth visiting. The Great Pyramids at Giza are an absolute must-see; these iconic structures have been standing since 2560 BC and remain one of the Seven Wonders Of The World today.

A tour will take visitors around each pyramid as well as into King Cheops' Pyramid where they'll learn about its unique construction and history. Other nearby attractions include Memphis & Sakkara – two UNESCO world heritage sites featuring temples, tombs, mummies & more – plus Abu Sir El Malaq which holds royal tombs from 4500 years ago! Not far away is also Saqqara – home to many Step Pyramids including Djoser's Step Pyramid – considered by some to be the oldest stone structure ever built by humans!

You'll also find numerous hieroglyphic inscriptions on walls throughout Saqqara that provide insight into life during Ancient Egyptian times.
Day Trips from Alexandria Egypt
If you're looking for an exciting day trip from Alexandria, Egypt, then you've come to the right place. The city of Alexandria is full of history and culture, making it a great starting point for exploring the surrounding area. From ancient monuments to beautiful beaches, there are plenty of activities and sites to see within a few hour's drive of the city.

Here are some ideas for your next-day trip from Alexandria: 1) Visit the Great Pyramids – One of Egypt's most iconic attractions is just a short drive away in Cairo! Spend the day taking in this incredible site and learning about its long-standing history.

You can also explore the nearby Giza Necropolis which includes three large pyramids as well as smaller tombs and temples that date back thousands of years. 2) Explore El Alamein – Located on Egypt's Mediterranean coast about 1 hour west of Alexandria is El Alamein where one of World War II's biggest battles was fought between Axis forces led by Erwin Rommel and Allied forces under General Bernard Montgomery in 1942. Today you can visit several memorials dedicated to those who died during this battle including Commonwealth war graves commission cemetery with over 8,000 gravesites scattered throughout its grounds.

3) Relax at Montazah Palace – If you're looking for some rest and relaxation after all your sightseeing then heads east towards Montazah palace located just outside downtown Alexandria along the Mediterranean Sea.
Cairo to Alexandria Distance
If you're looking to travel from Cairo to Alexandria, Egypt, you'll be in for a long journey. The two cities are separated by roughly 223 miles (359 km), and the trip takes about four hours by car. The most popular route between the two cities is via Highway 1, which runs southeast along the Mediterranean Sea coast through Giza and Port Said before reaching Alexandria.

Along the way, you'll pass desert landscapes and ancient ruins such as Memphis and Sakkara Pyramids near Giza, then cross over Lake Manzala before arriving in Alexandria. Though there are several public buses that run between Cairo and Alexandria daily—including some overnight trips—most travelers opt for private transportation or rental cars when making this trek. This is especially true if you're planning on making stops along the way; though it may take longer overall than taking a direct bus ride from one city to another, having your own mode of transport gives you more flexibility in terms of where and how often you can pull off at a rest stop or attraction site en route.

Driving yourself also allows for more comfort during your journey; many buses used on these routes don't have air conditioning so depending on what time of year it is, things could get pretty hot inside!
Alexandria Day Tour
If you're looking for a day trip packed with history and culture, then consider planning a tour of Alexandria, Virginia. Located just outside Washington D.C., Alexandria is a perfect destination for those seeking an educational and enjoyable excursion from the nation's capital. Begin your tour in Old Town, the city's historic district.

Here you can explore numerous sites that honor America's past including Gadsby's Tavern Museum, George Washington Masonic National Memorial, Lee-Fendall House Museum & Garden, and more. Take some time to wander through the area's cobblestone streets lined with shops and cafes offering unique experiences from ice cream tastings to craft beer tours! Continue your journey by visiting one of Alexandria's many waterfront attractions such as Torpedo Factory Art Center or Waterfront Park where visitors can take in stunning views of the Potomac River while enjoying live music and outdoor activities like fishing or kayaking.

For those interested in military history, don't miss out on Fort Ward Park which features reconstructed Civil War fortifications as well as monuments dedicated to veterans who fought during World War I & II! End your sightseeing adventure at Carlyle House Historic Park where you can catch glimpses of 18th-century life inside this restored Georgian mansion owned by John Carlyle – one of Colonial America's most influential citizens!
Conclusion
If you're looking for a great day trip from Cairo, then Alexandria is a perfect choice! It's a beautiful port city that has been around since ancient times and is just two hours away by car. Once you arrive in Alexandria, there are many things to do and see.

Start your day by visiting the Citadel of Qaitbay which sits on an old island fortress from the 15th century. Then take some time to explore the Roman Amphitheatre of Kom el Dikka and marvel at its stunning architecture. Next, check out Pompey's Pillar – an impressive column that was built over 2,000 years ago during the reign of Emperor Diocletian!

Finally, don't miss out on strolling along Corniche Road where you can get amazing views of both land and sea while taking in all the sights that this vibrant city has to offer. So if you're looking for a fun way to spend a day outside of Cairo, look no further than Alexandria – it's sure not to disappoint!