Egypt private tour guides provide personalized tours of the country's historical and cultural sites. Tour guides are experienced professionals who have in-depth knowledge of Egyptian history, culture, and landmarks. They can tailor a tour to meet your interests, whether you're looking for a leisurely stroll through Cairo or an adventurous exploration of the desert oasis towns.

Private tour guides will introduce you to the most interesting places while providing a wealth of information about each site. Your guide will also be able to recommend restaurants and activities that best suit your taste and budget. A private Egypt tour guide is an invaluable resource when visiting this ancient land – they make sure that you get the most out of your visit by taking care of all logistical details as well as offering valuable insight into local customs and cultures.
If you're planning a trip to Egypt and looking for an experienced local private tour guide, then look no further! Having a qualified and knowledgeable guide can make your vacation even more memorable. An Egypt private tour guide is the perfect way to get the most out of your visit.

A personal tour guide will ensure that you don't miss any of the must-see attractions in Egypt, such as the Great Pyramids of Giza and Abu Simbel temples. With an expert by your side, you'll learn about all of the fascinating history behind these incredible sites – something that would be hard to do on your own. Your tour guide will also provide valuable advice on which restaurants are best and where to go shopping for souvenirs or other items during your stay.

In addition to seeing some of the most iconic places in Egypt, a private tour guide will take you off the beaten track so that you can experience different parts of this amazing country. You may find yourself exploring ancient ruins, trekking through lush oases, or discovering hidden gems like little-known mosques and markets away from large tourist crowds. No matter what type of experience you're looking for in Egypt, having a local private tour guide with expert knowledge will guarantee an unforgettable time full of adventure and exploration!
Best Egypt Private Tour Companies
If you're planning a trip to Egypt and are looking for the best private tour companies, look no further. Egypt is an incredible destination with thousands of years of history, stunning architecture, and breathtaking landscapes that will leave you in awe. From the bustling streets of Cairo to exploring ancient tombs in Luxor or sailing down the Nile River on a felucca, there are so many amazing experiences to be had in Egypt.

To make sure your experience is as smooth as possible, it's important to find a reliable and reputable tour company that can provide knowledgeable guides and arrange unique activities tailored to suit your individual needs. Here are some of the top-rated private tour companies in Egypt: 1) Wild Bunch Private Tours – This award-winning travel company has been organizing bespoke tours throughout Egypt since 2007.

With their team having over 20 years of combined experience they offer superior service at competitive prices with each itinerary tailored specifically around your interests and budget requirements. They also specialize in small group tours with a maximum of 8 people so that everyone gets personalized attention from start to finish. 2) G Adventures – G Adventures offers several different packages for travelers wanting to explore all that Egypt has to offer without breaking the bank.

Their trips range from 5 days up to 21 days long taking you all across this fascinating country including stops at Cairo, Luxor & Aswan plus plenty more along the way!
Egypt Private Tour Guide Cost
Traveling to Egypt is a dream for many, and with the help of a private tour guide, you can make that dream come true. But how much does it cost? What factors affect the cost of hiring an Egypt private tour guide?

In this blog post, we'll explore these questions in detail so that you can plan your trip more effectively. The cost of hiring an Egypt private tour guide will depend on several different factors such as the size of your group, length of stay, and type of activities you want to do. Generally speaking, larger groups tend to have lower per-person costs than smaller groups when it comes to hiring a private tour guide in Egypt.

Additionally, longer trips may also require more experienced guides who command higher fees. When planning your budget for an Egyptian vacation with a private tour guide there are other considerations beyond just the base rate. For instance, if you're visiting certain attractions or sites where entrance fees must be paid separately then these should be accounted for too.

Other miscellaneous expenses like tips or meals could add up quickly so they should also be factored into any budget estimates as well. On average, however, most travelers may expect to pay around $50-$100 USD per person per day depending on their needs and requirements from their private tour guide. If booking through an agency online prices may vary but still along similar lines based on what services are included in the package being offered.
Private Tours Egypt And Jordan
If you're planning a trip to Egypt and Jordan, then you should consider taking a private tour. Private tours of the region provide an intimate way to explore while ensuring that all your needs are met. Not only will you get up close and personal with some of the most amazing sights in the area, but you can also customize your itinerary so it meets all of your interests and preferences.

There are many benefits associated with booking a private tour of Egypt and Jordan. First off, as these tours tend to be more expensive than regular group tours, they offer more luxurious accommodations such as five-star hotels or resorts – perfect if you want to relax after long days exploring! You won't have to share space with strangers either; instead, enjoy quality time spent with friends or family around every corner.

In addition, private tours offer greater flexibility than their group counterparts. With no restrictions on how much time is spent in one place or what sites are visited each day, it's easy to craft an itinerary based on your own interests rather than having them predetermined by someone else. Plus, since these trips typically involve smaller groups (or just yourself!), there's less pressure when sightseeing – allowing everyone involved plenty of opportunity for meaningful conversations while soaking up history along the way!

The best part about opting for a private tour is that everything will be tailored specifically toward what YOU want out of this experience!
Egypt Tour Guides
When it comes to taking a trip to Egypt, many travelers consider hiring an experienced tour guide. Tour guides provide valuable insight into the country's culture, history, and attractions as well as offer essential guidance throughout the entire journey. In this blog post, we'll discuss what makes Egypt tour guides so important, why you should consider one for your next vacation, and where to find the best ones in Cairo.

Egypt is full of ancient wonders that are unparalleled anywhere else on earth. From its breathtaking pyramids and sphinx at Giza to its fascinating temples along the Nile River—it would be nearly impossible for any traveler who wants to get the most out of their experience without some help from a knowledgeable local guide. Tourists who try to venture around Egypt alone might miss out on key areas or have difficulty navigating through various locations due to language barriers or cultural norms that they may not understand or have known about priorly.

A good tour guide can open up new possibilities by providing meaningful commentary on each site while increasing overall safety and security during your stay in Egypt. Not only will a professional tour guide make sure all of your needs are taken care of but they also serve as guardians against potential scams or other unpleasant situations tourists often encounter when traveling abroad—especially in countries like Egypt which is traditionally known for being culturally conservative with high levels of poverty and crime rates compared with other parts of Europe or North America.
Tour Guide Egypt Review
If you're planning a trip to Egypt and looking for an experienced tour guide, then look no further than Tour Guide Egypt. With over 20 years of experience in the travel industry, they are experts in providing travelers with unforgettable experiences. From personalized tours of the Pyramids and Sphinx to visiting ancient temples and tombs, Tour Guide Egypt offers customized packages that will make your Egyptian adventure truly memorable.

The team at Tour Guide Egypt is composed of highly knowledgeable professionals who know their way around Cairo like the back of their hand. They will take you through all the must-see attractions as well as some hidden gems off the beaten path that you wouldn't find on your own! Additionally, they provide a wealth of information about local history, culture, and customs so you can get a better understanding of this fascinating country during your visit.

What really sets this company apart is its commitment to customer satisfaction; each tour is designed with individual needs in mind and tailored accordingly for maximum enjoyment. Their prices are also very reasonable – depending on what type of tour package you choose – making them one of the most cost-effective options out there when it comes to exploring Egypt's many wonders. All things considered, Tour Guide Egypt receives glowing reviews from those who have used their services before; customers praise their friendly staff members for being extremely helpful throughout the entire process as well as providing excellent service during every stage from booking through completing the tour itself.
Cairo Private Tours
If you're looking for a unique way to explore the amazing city of Cairo, then consider booking a private tour. Private tours from qualified guides are an excellent way to experience all that Cairo has to offer without worrying about crowds or other tourist traps. From historical sites and ancient monuments to vibrant markets and delicious cuisine – there's something for everyone on a private tour in Cairo!

Cairo is home to some of the world's greatest wonders including the Pyramids of Giza, The Great Sphinx, and numerous mosques including Al-Azhar Mosque. A private tour can take you through many of these iconic landmarks as well as give you access to local attractions such as museums, souks (markets) and even street food stands. Allowing a knowledgeable guide provides insight into Egypt's long history while making sure that your safety comes first at all times.

A great benefit of taking a guided tour with an experienced guide is having access to VIP treatment at certain locations where larger groups may not be allowed entry or require special permission due to their size. This means more time exploring rather than spending hours waiting in line trying to get tickets! Moreover, if you have any dietary restrictions or allergies this can be taken care of so don't worry about missing out on sampling traditional treats like falafel and koshari during your visit!
Egypt Pyramid Tour Packages
If you're looking for an unforgettable experience, then a tour of Egypt's pyramids is a perfect choice. With its ancient monuments, rich history, and captivating culture, Egypt has something for everyone. And with so many different pyramid tour packages available, you can be sure to find one that suits your needs and budget.

The most popular way to explore the pyramids is through guided tours which begin in Cairo or Luxor. These usually involve visits to some of Egypt's most famous sites such as Giza Necropolis (the Great Pyramids), Saqqara (Step Pyramid complex) Valley of Kings at Thebes, and more. Depending on your itinerary you may also have time to visit other attractions like Karnak Temple Complex or Abu Simbel Temples.

Most guided tours range from 4-7 days in length and include entrance fees, transportation between destinations, accommodation options such as hotels or camping under the stars near some of the archaeological sites, and meals depending on the package type chosen among other amenities. For those wanting a little more independence during their trip, there are several private tour companies that offer self-guided packages allowing travelers the freedom to design their own experience according to their budget & interest level without having any pressure from guides/tour operators about what sights they should see & when. This option includes transfers by vehicle between destinations, and hotel accommodation with breakfast included but does not offer meal plans beyond breakfast nor access fees to sites visited.
Private Pyramid Tours Egypt
Are you interested in exploring the ancient wonders of Egypt? Then why not consider a private pyramid tour? Private pyramid tours are an unforgettable way to explore one of the most iconic sites in the world.

From exclusive access to hidden chambers and tombs to off-the-beaten-track experiences that can't be found on any other tour, these tours offer something for everyone. Here's what you need to know about booking a private pyramid tour in Egypt. The Great Pyramids of Giza are undoubtedly one of the most impressive sights in all of Egypt.

With their towering structures and mysterious history, it is no wonder so many visitors flock here each year looking for an experience like no other. A private pyramid tour allows you to get up close and personal with these incredible monuments without having to fight through crowds or wait in long lines. You will have exclusive access to areas normally closed off from regular tourists as well as plenty of time for photographs along the way – something that would otherwise take hours if done independently!

When planning your trip, there are several things you should keep in mind when selecting a company offering private pyramid tours: • How much time do I have available? Depending on how much time you have available; some companies may be able to accommodate shorter or longer trips while others may require more advance notice before they can book such requests

• What kind of experience am I looking for?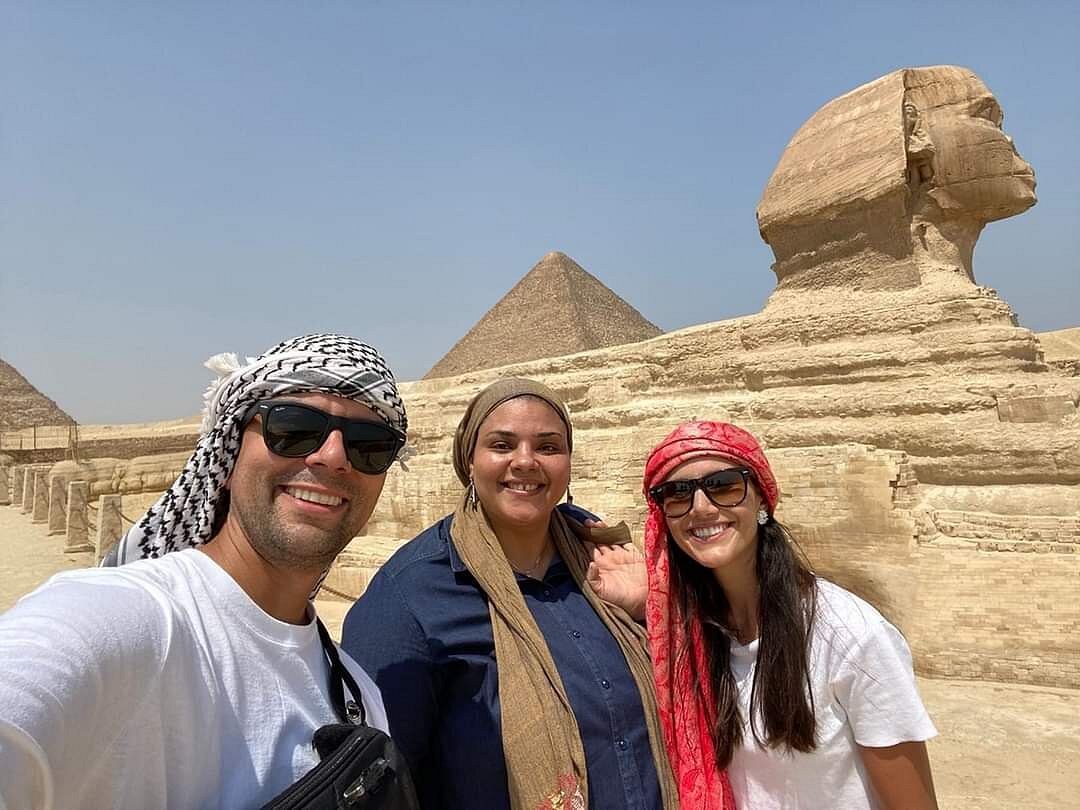 Credit: www.tripadvisor.com
How Much is a Private Tour Guide in Egypt?
If you're planning a trip to Egypt and want the most out of your experience, hiring a private tour guide is an excellent way to ensure that you get the best possible experience. But how much will it cost? The cost of hiring a private tour guide in Egypt depends on several factors.

For starters, the size of your group—the more people there are at your party, the more expensive it will be to hire a guide who can accommodate everyone. Additionally, if you have special requests such as visiting certain sites or experiencing specific activities, these might incur additional costs. Generally speaking, though, you should expect to pay anywhere from $50-100 USD per person for a full-day guided tour (eight hours).

Prices may vary depending on where exactly in Egypt you're touring and what type of experience or accommodations you request; for example, tours exploring ancient tombs and temples tend to be slightly more expensive than those focused on sightseeing only. You may also find slightly cheaper rates if booking multiple days with one company at once rather than just doing one-day trips here and there—this helps cut down on overhead expenses for them and lets them pass some savings onto their clients. It's important to keep in mind that quality matters when it comes to selecting tour guides!

Do some research before making any decisions so that you can find skilled professionals who know their stuff about Egyptian culture/history and have good customer service skills as well.
Do You Need a Tour Guide for Egypt?
When it comes to visiting Egypt, many travelers are concerned about whether they need a tour guide or not. The answer is both yes and no depending on the type of trip you have planned. First, if you are looking for an in-depth experience of all that Egypt has to offer, then hiring a tour guide would be the best option for you.

Tour guides can provide valuable insight into the country's unique culture and history as well as offer advice on where to go and what to do in each city. They can also arrange transportation between cities so that your visit is stress-free and enjoyable. Finally, having someone who speaks fluent English will help ensure your safety while traveling throughout Egypt since many Egyptians speak primarily Arabic or French.

On the other hand, if you plan to take a more relaxed approach with plenty of time spent relaxing by the beach or sightseeing during the day without any strenuous activities like hiking up pyramids planned then you may not need a tour guide at all! In these cases, renting a car or taking public transportation around cities such as Cairo will suffice just fine – especially if you don't mind asking locals for directions when necessary! However, be aware that some areas may still require permission from local authorities before entering so speaking with someone familiar with laws & regulations related to travel in Egypt would be beneficial here too (which again could come in handy if using a tour guide).
What is the Best Travel Guide to Egypt?
If you're planning to travel to Egypt, it's essential that you have the best possible travel guide with you. With its spectacular ancient monuments, vibrant culture, and stunning natural beauty, Egypt is one of the most fascinating destinations in the world – but without a good guidebook, it can also be overwhelming. The good news is that there are plenty of excellent options when it comes to choosing a travel guide for your trip to Egypt.

One great choice for travelers headed to Egypt is the Lonely Planet: Cairo & The Nile Valley guide. This comprehensive book offers detailed information on everything from sightseeing hotspots such as Giza and Luxor to practical tips like how to get around safely and where to find authentic Egyptian cuisine. It also provides useful background information about politics, religion, and culture so visitors can better understand their surroundings while they explore this unique country.

Another fantastic option for those looking for an in-depth look at what makes Egypt tick is Bradt Travel Guides: Guide To Ancient Egypt by Richard Hinge & Anthony Sattin. This updated edition includes all of the latest updates on archaeological sites such as Saqqara and Abu Simbel plus plenty of interesting facts about the ancient history along with advice on dealing with modern-day bureaucracy (such as getting visas). Whether you're interested in visiting tombs or temples or just want more insight into everyday life in this African nation – this book has something for everyone!
Can I Tour Egypt on My Own?
Touring Egypt on your own can be a very rewarding experience, but it requires careful planning and preparation in order to ensure that you have an enjoyable and safe journey. It is important to understand the local culture and customs before deciding whether or not it is suitable for you to travel independently. First of all, make sure you obtain all necessary visas and permits for entry into Egypt.

As an independent traveler, there are certain areas of the country that may require special permission from the authorities in order to visit them. You should also purchase comprehensive travel insurance that covers medical expenses just in case something were to happen while abroad. It is recommended that visitors research relevant safety information regarding their destination prior to arrival as political unrest has occurred throughout the region recently.

Check with your government's foreign office website for up-to-date advice about potential risks associated with traveling alone in Egypt as well as any other countries you plan on visiting during your trip. Once inside the country, it would be wise to hire a reliable tour guide who speaks both English and Arabic fluently if possible since they will provide invaluable guidance throughout your stay in this ancient land; especially if exploring remote sites away from major tourist attractions such as Luxor or Cairo. Tour guides generally have great knowledge of historical points of interest, monuments, archaeological discoveries, etc., so they can offer interesting insights into what makes each area unique culturally speaking too!
Your Egypt Tour Guide Ahmed Esmat (Medo) from On The Go Tours
Conclusion
Welcome to Egypt! If you're looking for a private tour guide, you've come to the right place. We offer exceptional guides who are knowledgeable and experienced in helping visitors explore this beautiful country.

Our staff is committed to making your experience enjoyable and memorable. Our tour guides take pride in their ability to provide guests with an unforgettable journey through Egypt's rich cultural heritage. They will customize a personalized itinerary based on your interests and preferences so that you can make the most out of every moment here.

Plus, they are also available anytime during your trip if any questions or concerns arise. Whether it's visiting ancient ruins like the Pyramids of Giza or exploring modern attractions such as The Grand Egyptian Museum, our tour guides will give you an insider perspective into this fascinating land. From boat rides along the Nile River to camel rides through desert oases, we have something for everyone!

Choose us for your ultimate Egypt experience – our friendly team of local experts looks forward to showing you around!