Egypt Tour Packages from Cairo allow travelers to explore the ancient and modern highlights of Egypt. Popular packages include a 3-night tour of the Giza Pyramids and Egyptian Museum, 4 nights in Luxor visiting Karnak Temple, Valley of Kings, and Hatshepsut Temple plus a visit to the Suez Canal. Other packages may include cruising down the Nile on a traditional felucca boat while stopping at many historical sites along the way.

Many tours also offer optional excursions such as hot air balloon rides over Luxor, camel rides into the desert, or jeep safaris through oases like Siwa and Bahariya. There are all-inclusive tour packages available that take care of flights, accommodation, transfers as well as meals so that you can enjoy your holiday without any worries.
Egypt is a country that is full of ancient wonders and has been drawing visitors for centuries. Whether you're interested in the ancient pyramids, exploring the vast desert landscape, or taking in some of Egypt's unique culture, there are plenty of great reasons to visit this amazing country. If you're planning on visiting Egypt from Cairo, there are plenty of tour packages available to fit any budget and itinerary.

One popular tour package offered by many travel companies is an 8-day expedition beginning in Cairo and ending in Luxor. During your stay in Cairo, you can explore some of its iconic landmarks such as the Great Pyramids of Giza and the Sphinx as well as other attractions like Khan el Khalili Bazaar. From there you will journey down to Luxor where you will have time to explore all that this city has to offer including its beautiful temples, tombs, and monuments dedicated to Egypt's past civilizations.

In addition, if time allows it might be worth venturing out into the nearby Valley Of The Kings or taking a hot-air balloon ride over Luxor for unforgettable views! For those looking for something more adventurous then consider one of our Nile River cruise options.
HOW TO PLAN A TRIP TO EGYPT
What is the Average Cost of a Tour of Egypt?
Exploring Egypt is a once-in-a-lifetime experience, and it's an adventure that should be on everyone's bucket list. However, before you can start packing your bags for this epic journey, you need to know the answer to one of the most important questions: What is the average cost of a tour of Egypt? The short answer is that there isn't really an "average cost" per se; the actual price of your trip will depend largely on what type of tour you choose and how many people are going with you.

Generally speaking, however, tours in Egypt range from $1,500 – $4,000 USD per person depending on duration and quality. Here are some more specifics about costs associated with touring Egypt:
• Airfare: Depending on where in the world you're coming from and when (peak season vs off-season), airfare prices vary greatly.

For example, flights from North America or Europe typically cost anywhere between $800 – $2,000 roundtrip whereas flights within Africa tend to be much cheaper (around $400).
• Accommodations & Food: Most tours include basic hotel accommodations as well as food – usually 3 meals a day at buffet-style restaurants. Prices here can range dramatically depending on where exactly in Egypt your tour takes place but generally speaking expect to pay around $50-$150/day for both lodging and food combined.
Is Egypt Cheap for Tourists?
As anyone who's ever traveled to Egypt can tell you, the country is a great destination for tourists on a budget. It offers plenty of amazing sights and experiences that don't cost an arm and a leg. But is it really as cheap as people claim?

Let's take a closer look at what Egypt has to offer in terms of affordability for travelers. Accommodation Costs: Egypt offers some very affordable accommodation options depending on where you choose to stay.

If you are looking for something more luxurious or with more amenities, then expect to pay higher prices typical of hotels anywhere else in the world. However, if budget travel is your main concern then staying in hostels and guesthouses will be much cheaper than opting for hotel stays – dorm beds can start from around $5 per night while private rooms may range between $15-30 per night depending on location and seasonality. Airbnb rentals are also available throughout the country but tend to be pricier than other types of accommodation so keep this in mind when making your plans!

Food & Drink Prices: Egyptian cuisine is both delicious and surprisingly inexpensive compared with many other countries – meals out rarely cost more than 20 EGP ($1-$2 US) which makes eating out an incredibly affordable option even if you have limited funds!
How Many Days Are Enough for Egypt?
When it comes to planning your trip to Egypt, one of the most important questions you need to ask yourself is "How many days are enough for Egypt?". It can be a difficult question to answer since there is so much history and culture in this ancient country. But with some careful planning, you can make sure that your vacation in Egypt will be as memorable as possible!

The answer really depends on how much time you have available and what type of experience you want out of your trip. If you only have a few days, then it might be best to focus on just one or two areas such as Cairo or Luxor – that way you won't feel too rushed and can get the most out of each place. However, if you have more than a week then it's definitely worth considering visiting multiple cities throughout the country like Aswan or Alexandria – each has something unique which shouldn't be missed!

Of course, if possible try to spend at least 9-10 days in total seeing all that Egypt has to offer. This will give plenty of time for sightseeing (including iconic places like the Pyramids), exploring off-the-beaten paths spots and museums/galleries, trying local cuisine from different regions, and relaxing along the Red Sea coastlines – not forgetting some shopping opportunities too! To ensure an unforgettable itinerary include visits to both the northern part (Cairo) and the southern part (Luxor).
What is the Best Way to Tour Egypt?
Egypt is a beautiful country with a rich and vibrant history that can be explored through its ancient ruins and artifacts. Touring Egypt can be an incredibly rewarding experience, but there are several things to consider before embarking on your journey. In this blog post, we'll discuss the best way to tour Egypt in order to make the most out of your visit.

First, it's important to decide which destinations you want to visit while touring Egypt. The country has an impressive array of archaeological sites, monuments, museums, and other attractions that will provide insight into its past – from the Pyramids of Giza to Luxor Temple or Abu Simbel. Consider what type of experiences you would like to have when traveling around Egypt – whether it's touring open-air markets or sailing along the Nile River – in order to plan your itinerary accordingly.

When planning your trip, it is also essential that you take safety into account as well; traveling independently can be risky due to political unrest in some areas and tourists should always exercise caution when visiting unfamiliar places. It may be wise for travelers who are unfamiliar with Egyptian culture and customs to join organized tours instead so they don't miss any key sites or run into potential danger during their travels. A professional guide will not only ensure safety but also help maximize time spent exploring these incredible destinations by providing valuable knowledge about each location's history and significance.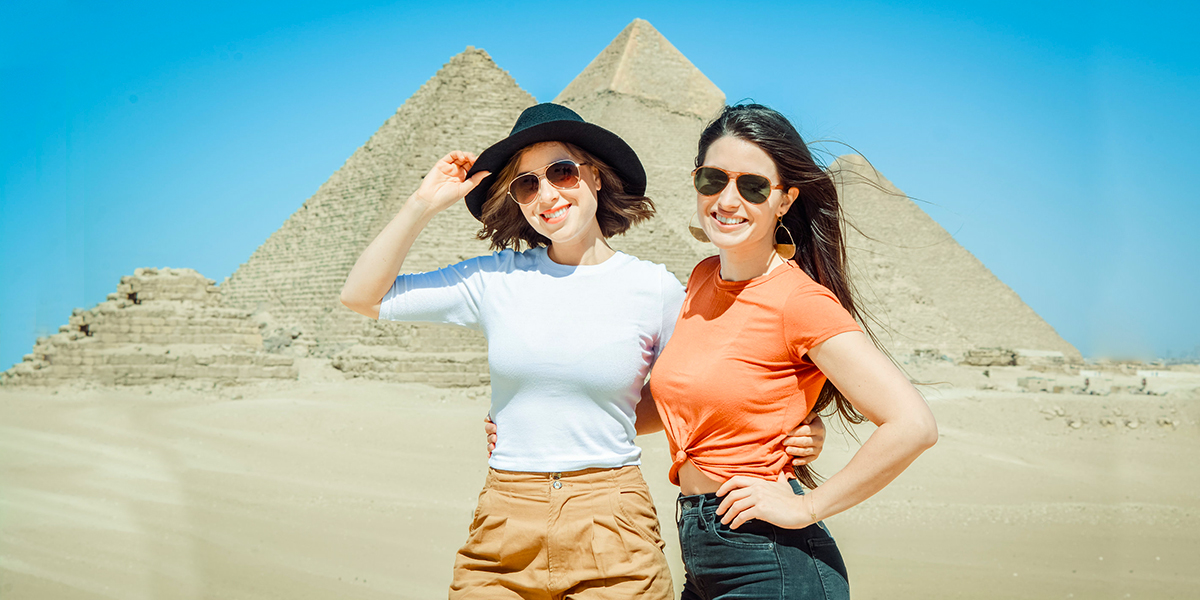 Credit: www.egypttoursportal.com
Best Egypt Tour Packages
If you're looking for an unforgettable trip to one of the most fascinating countries in the world, a tour package to Egypt is just what you need. From its ancient wonders and majestic pyramids to its vast deserts and vibrant culture, there's so much to explore in this magical land. To help make your Egyptian getaway as enjoyable as possible, here are some of the best Egypt tour packages on offer.

The Classic Tour: This classic itinerary takes travelers through some of Egypt's most iconic sites and attractions. Start off with Cairo – home to the Great Pyramids of Giza – before heading south towards Luxor and Aswan where visitors can explore tombs and temples from Ancient Egyptian times such as Karnak Temple Complex and Valley of Kings. The Classic Tour also offers optional excursions such as sailing down the Nile or hot air ballooning over Luxor City at sunrise!

The Adventurer's Choice: Perfect for those wanting a more action-packed holiday experience, this tour offers activities like camel riding through desert dunes or sand boarding along mountainous terrain near Siwa Oasis. Visitors will also have time to visit historical landmarks like Abu Simbel along with plenty of opportunities for shopping in bustling bazaars across cities like Alexandria and Port Said!
All Inclusive Egypt Tour Packages
If you're looking for an unforgettable vacation experience, then look no further than Egypt. From its awe-inspiring ancient monuments and archaeological sites to its vibrant culture and stunning natural beauty, Egypt has something to offer everyone. And with all-inclusive Egypt tour packages, you can get the most out of your trip without breaking the bank.

An all-inclusive Egypt tour package typically includes a variety of services including accommodation in top hotels or resorts, transportation between destinations in air-conditioned coaches or cars, and guided tours of famous attractions like the Pyramids at Giza and Luxor Temple. In addition to this, many packages also provide meals such as breakfast buffets and multi-course dinners at select restaurants as well as access to swimming pools or beaches where available. When it comes to sightseeing opportunities on your all-inclusive Egypt holiday package there is plenty to see from The Great Sphinx at Giza which is one of the oldest statues in the world dating back 4500 years ago to Alexandria which was once home to Alexander The Great and offers some spectacular views along with Mediterranean Sea cruises that will take you past breathtaking scenery including coral reefs & mangroves that are teeming with marine life.

Other activities may include camel rides through desert landscapes & visits to local markets where you can shop for souvenirs ranging from traditional jewelry pieces & handmade textiles to authentic spices & perfumes!
Egypt Tour Packages from the USA
Are you looking to explore the wonders of Ancient Egypt? Have you been dreaming of a tour package that will provide all the novelty and fun that comes with visiting this ancient yet modern country? Look no further, because we have just what you need!

We are offering one-of-a-kind Egypt Tour Packages from the USA. Our packages include round trip flights from any major US airport, three to four-star hotel accommodations in Cairo or Alexandria, daily breakfast buffets at your hotel, private tours around some of Egypt's most famous landmarks such as Giza Pyramids and Karnak Temple Complex as well as visits to bazaars and shops for souvenirs. Additionally, our packages come with optional Egyptian visa processing services so that travelers don't have to worry about obtaining visas before their trips.

Our knowledgeable guides can help travelers customize their itineraries according to their interests and preferences. Whether it's exploring the vibrant nightlife in Dahab or going on an exciting Nile cruise filled with exotic sights along its banks – there is something for everyone! Besides land-based activities, our package also includes snorkeling trips off the Hurghada coast where visitors can dive into the depths of Red Sea waters teeming with colorful marine life perfect for unforgettable underwater experiences.

We strive hard to ensure each customer has a memorable experience while they explore cultural attractions like Islamic Cairo or visit Luxor's iconic Valley Of The Kings.
Egypt Tour Packages With Flights
If you're looking for an exciting and unforgettable vacation experience, look no further than Egypt Tour Packages with Flights. This type of package offers travelers a comprehensive all-inclusive trip to one of the most ancient civilizations in the world. From flights to full accommodations and food, everything is taken care of so all you have to do is enjoy your time exploring this incredible country.

Egypt has something for everyone; from historical sites like The Great Pyramids and Abu Simbel Temple or modern cities such as Cairo, Alexandria, and Luxor. You can also explore fascinating outdoor activities such as snorkeling in the Red Sea or taking a hot air balloon ride over the Valley of Kings. With our packages that include flights, you won't have to worry about any transportation needs while visiting – just sit back and relax while we take care of everything else!

Our packages are completely customizable – choose your preferred flight route, hotel accommodation style (luxury resort or budget-friendly), and number of days spent on your tour so that it fits perfectly within both your schedule and budget requirements. We also offer add-ons such as guided tours through archeological sites led by experienced guides who will bring history alive for you. Additionally, if there is a special event happening during your stay (such as an Islamic holiday celebration) we can arrange tickets for those too!
Egypt Pyramid Tour Packages
If you're looking for an unforgettable experience, then a trip to Egypt is a must. With its ancient history, stunning landscapes, and unique culture, it's no wonder that Egypt has become one of the most popular travel destinations in the world. And when you visit this amazing country, be sure to check out some of the incredible pyramid tour packages available.

Pyramids are one of the most iconic symbols associated with Ancient Egypt and they remain a major tourist attraction today. The Great Pyramids of Giza are perhaps the most famous pyramids in all of Egypt and offer visitors an up-close look at these amazing structures built by ancient peoples thousands of years ago. Tour packages typically include guided tours around the Great Pyramid complex as well as visits to other nearby sites such as Memphis and Saqqara.

They can also provide access to more exclusive areas such as secret burial chambers or hidden tunnels beneath some monuments – giving tourists an insight into fascinating aspects that cannot be found elsewhere. The great thing about many pyramid tour packages is their flexibility; travelers have plenty of options for customization depending on their interests or budgets. For instance, there are day trips that focus solely on exploring Giza's pyramids or multi-day itineraries which cover various sites across different parts of Egypt including Cairo and Luxor (home to another impressive collection).
All-Inclusive Trip to Cairo Egypt
Are you looking for the ultimate vacation experience? Look no further than an all-inclusive trip to Cairo, Egypt! This amazing city is full of incredible sights and experiences that will leave you with memories to last a lifetime.

From exploring ancient ruins to experiencing local culture and cuisine, there's something for everyone in this bustling metropolis. Start your trip off right by visiting the Great Pyramids of Giza. These iconic structures are some of the world's oldest monuments and have been standing since 2560 BC.

Take a tour around the pyramids and learn about their fascinating history as well as get up close to these colossal structures. Next, take a stroll along The Nile River which has been home to Egyptian civilization for millennia. Enjoy breathtaking views from one of its many bridges or hop on board a cruise ship for an unforgettable journey downriver!

Along the way be sure to stop at some of the attractions like The Mosque Of Muhammad Ali Pasha or Luxor Temple Complex where you can admire stunning architecture up close. Once you've explored what Cairo has above ground, head underground into its vast network of catacombs and tombs scattered throughout various districts in town! Discover hidden wonders tucked away beneath modern-day buildings that were created thousands of years ago such as Tutankhamun's tomb located near The Valley Of The Kings complex in Luxor.
Cairo And Alexandria Tour Packages
Are you planning a trip to Egypt? If so, consider taking one of the exciting tour packages available in Cairo and Alexandria. These two cities offer an abundance of activities and sights that are sure to create lasting memories.

From ancient ruins to modern attractions, these two cities have something for everyone! Cairo is home to some of the world's most iconic locations, including Giza's Great Pyramids and Sphinx. The city also has many other historical sites such as the Egyptian Museum which houses various artifacts from Ancient Egypt's past.

Other points of interest include Islamic Cairo with its array of mosques, churches, and monasteries or Khan el-Khalili bazaar – a bustling souk filled with handicrafts from all over Egypt. Alexandria is another great destination for those looking for culture and history on their visit to Egypt. Here visitors can explore Roman ruins at Kom El Dikka or take a stroll along Mediterranean shores at Montazah Garden Palace – both located in Alexandria's picturesque Eastern Harbor district.

For more natural attractions, travelers can head out into nature by visiting Lake Mariout or exploring Wadi El Natrun Valley with its unique desert landscape dotted with oases and palm trees stretching into the horizon.
Egypt Tour Packages from Uk
If you're looking for an unforgettable holiday experience, then a tour package to Egypt from the UK could be just what you need. From the ancient wonders of Giza and Luxor to modern-day Cairo, there's something for everyone in this incredible country. Egypt offers tourists a variety of activities and experiences that are sure to make your trip memorable.

You can visit some of the most famous archaeological sites in the world such as the Great Pyramids at Giza or explore legendary temples like Karnak and Abu Simbel. If you prefer more contemporary attractions, take time out to wander around Cairo's bustling Khan el-Khalili bazaar or enjoy a felucca ride along the Nile River. There is no shortage of things to do in this fascinating destination!

When it comes to choosing an Egypt tour package from the UK, there are many options available depending on how much time you have and how far away your travel plans will take you. Most packages include flight tickets, airport transfers, and accommodation with some meals included but others may offer additional perks such as guided tours or sightseeing trips within Egypt itself. The cost will vary depending on which type of package you choose but generally speaking, they tend not to exceed £2000 per person for a week-long stay including flights (though prices may differ).
Conclusion
Hey there! If you're looking for an adventure in Egypt, why not check out some of the amazing tour packages from Cairo? From exploring ancient monuments to taking a cruise down the Nile River, these tours provide unique experiences that make your trip memorable.

Whether you're interested in seeing the majestic pyramids or learning about Egypt's rich culture and history, these packages offer something for everyone. You can also book private tours with certified guides who will take you to secret spots that most tourists don't know about. So don't wait any longer – explore everything Egypt has to offer by booking one of these fantastic tour packages today!