Family vacations in Egypt can be an incredible experience. Visitors will be able to explore the magnificent ancient temples and tombs, take a camel ride through desert oases, or float down the Nile River on a felucca. There are plenty of activities for all family members to enjoy such as exploring Cairo's bustling markets and visiting some of the country's world-famous archaeological sites like Luxor and Giza.

Touring one of Egypt's many museums is also a great way to learn about its rich history and culture. Families can stay in comfortable hotels located near popular tourist attractions or venture out into rural areas for more secluded visits with local Bedouin tribes. With so much beauty, adventure, and mystery waiting around every corner, it's no wonder why families keep coming back year after year for unforgettable vacations in Egypt!
There's no better way to bond with your family and explore a new country than on a family vacation in Egypt. One of the oldest civilizations in the world, Egypt is filled with ancient ruins, vibrant history and culture, stunning landscapes, and plenty of activities that will keep everyone entertained. Whether you're looking for an adventure-filled holiday or a relaxing beach break, there's something for every type of traveler when it comes to visiting this incredible country.

For those seeking some outdoor fun during their trip to Egypt, exploring the Great Pyramids of Giza is sure to be at the top of your list. Taking in these iconic structures up close is truly awe-inspiring; no matter how many times you have seen them before! For even more adventure head out on a hot air balloon ride over Luxor Temple or go camel riding through the desert sand dunes at sunset – both are unforgettable experiences that will stay with you long after returning home.

If lounging by crystal blue waters while soaking up some sun sounds like just what your family needs then one of Egypt's coastal towns might be perfect for you! Hurghada offers miles upon miles of sandy beaches where visitors can enjoy swimming, snorkeling, and sailing among other water sports – plus its central location makes it easy to reach other cities along the Red Sea Coast if your group wants even more variety during their trip.
Egypt Vacation Packages All Inclusive
If you're looking for a unique and unforgettable experience, then consider an all-inclusive Egypt vacation package. From the pyramids of Giza to the breathtaking temples at Luxor, there is something for everyone in this ancient land. With an all-inclusive package, everything from flights and accommodations to meals and activities is included so you can sit back and relax while exploring one of the world's oldest civilizations.

When planning your trip to Egypt, it's important to do some research on what type of vacation package best suits your needs. Many packages offer options ranging from budget-friendly trips with basic amenities to luxury tours that include first-class airfare and luxurious accommodation upgrades. For those wanting a truly customized experience, many companies also provide private tours where travelers get exclusive access to historical sites not open to larger groups or individuals without a guide.

No matter what type of tour you choose, most travel organizations will work closely with you throughout the process so that your trip is tailored according to your specific interests and budget restrictions. When selecting an all-inclusive Egypt vacation package make sure that it includes quality accommodations near major attractions such as The Valley of The Kings in Luxor or Abu Simbel Temple near Aswan. Some packages might also include visits to local markets like Khan El Khalili Bazaar in Cairo or other experiences such as hot air balloon rides over the Nile River Valley or diving excursions around Hurghada's Red Sea Coastline.
Adventures by Disney Egypt Cancelled
The news has recently come out that Adventures by Disney Egypt is no longer available. It's a sad day for all of us who were looking forward to visiting the land of ancient wonders and modern marvels, but it's important to understand why this decision was made. Adventures by Disney offers guided group tours throughout the world, including some of the most iconic destinations in history like Italy, France, India, and China — but not Egypt anymore.

The company decided that due to ongoing security concerns in the region, it could no longer offer its services there. This announcement comes as part of a larger effort from Disney to prioritize safety above all else when planning their trips. While this certainly isn't great news for those hoping to explore Egypt with Adventures by Disney, there are still plenty of other opportunities to experience this majestic country on your own terms.

From luxury cruises along the Nile River or camel rides through Cairo's bustling streets; you can find an exciting adventure tailored just for you! Plus if you want more structure while traveling around Egypt independently then look into programs such as G Adventures which provide expert guides who will show you around safely and securely – so don't despair if your dream trip with Adventures by Disney has been canceled – simply plan another one instead!
Best Egypt Vacation Packages
Are you looking for a unique and exciting vacation destination? If so, why not consider Egypt? With its ancient pyramids, beautiful desert landscape, and vibrant culture, it's the perfect place to explore.

And with so many different Egypt vacation packages available, there's something for everyone. When planning your trip to Egypt, one of the first things you should do is decide what type of package you want. You can choose from luxury all-inclusive packages that include airfare and accommodation; budget deals that let you customize your itinerary; or special tours that allow you to explore specific parts of the country in more depth.

No matter what kind of experience you're looking for, there are plenty of great options out there! If you opt for an all-inclusive package deal, make sure to check which hotels and activities are included in the price. Some packages may offer exclusive access to certain sites like the Great Pyramids or Abu Simbel Temple—so be sure to read up on each option before making a decision!

Additionally, look into whether meals are included in your package as this will help save money when dining out while in Egypt. For those who prefer a little more freedom during their trip abroad don't worry—there are also lots of great customizable packages available too!
Vacation to Egypt Cost
If you're looking for an exciting and exotic vacation destination, a trip to Egypt can be a perfect choice. With its ancient history, fascinating culture, and stunning views of the Nile River Valley, it's no wonder that Egypt is one of the top tourist destinations in the world. But how much does it cost to go on such a journey?

The price tag for a vacation in Egypt will depend largely on what type of accommodations you choose and how long your stay is. Generally speaking, budget travelers can expect to spend around $30-$60 per day on food and lodging while those seeking more luxurious experiences may pay up to $150 or more per day. Of course, these prices are subject to change depending on where exactly you plan to visit and when (peak season often means higher rates).

Transportation costs should also be taken into consideration when planning an Egyptian getaway. If flying from within the country or abroad, tickets usually range from about $600-900 roundtrip depending on the distance traveled and class chose (economy versus business/first class). Once you arrive at your destination there are plenty of inexpensive options for getting around such as buses or taking rideshare services like Uber/Careem.
Egypt Vacation Packages With Airfare
Egypt is one of the most popular tourist destinations in the world. With its rich history, breathtaking monuments, and ancient sites, it's no wonder that so many people flock to this majestic country each year. Whether you are looking for a relaxing beach holiday or an adventure-filled trip filled with sightseeing and shopping, Egypt has something for everyone.

Fortunately, there are plenty of amazing vacation packages available that include airfare so you can easily explore all that Egypt has to offer without breaking the bank. When booking your Egyptian vacation package with airfare, first decide what type of trip you would like to take. Are you interested in visiting Cairo's iconic pyramids?

Or maybe a Nile River cruise? Whatever your travel desires may be, there's sure to be a package deal perfect for you! Many companies even specialize in customizing packages specifically tailored to your specific interests and preferences.

Once you have decided on the type of trip desired, start researching different tour operators who offer such services at competitive prices. When looking into different companies make sure they provide quality service by reading customer reviews as well as verifying whether or not their tours are certified by organizations such as ECCT (The European Council for Certified Travel). Additionally, make sure any tour operator chosen is registered under ABTA (Association of British Travel Agents) which will ensure travelers receive top-notch service from reliable sources while abroad.
Egypt Vacation Packages 2023
Are you looking to plan a vacation in Egypt for the year 2023? Look no further! Egypt is full of spectacular history and culture, making it an ideal destination.

From exploring ancient ruins to relaxing on beautiful beaches, there's something here for everyone. And with so many incredible Egyptian vacation packages available, planning your trip has never been easier. One of the best ways to experience all that Egypt has to offer is by booking one of their amazing vacation packages.

These packages are typically all-inclusive deals that include airfare, hotel accommodations, transportation between destinations, and sightseeing tours – sometimes even meals! Plus they often come at a discounted price compared to if you were purchasing each item separately. But before you book any package, be sure to research what's included carefully so that you don't miss out on anything important or end up paying more than necessary due to hidden costs or fees.

You should also consider exactly what type of experience you want: luxury resorts. Budget hotels? Nile cruises?

Once you have narrowed down your options based on style and budget, then it's time to start shopping around for the best deal possible. Fortunately, there are plenty of great offers available when it comes time for booking your next Egyptian getaway in 2023!
Family Egypt
When many people think of Egypt, they immediately conjure up images of the ancient Pharaohs and their majestic pyramids. But there's much more to the country than its impressive historical monuments; it is also home to a diverse family culture that has been around for centuries. From traditional values to religious beliefs and colorful celebrations – family ties play an integral role in Egyptian life.

One of the most important aspects of any traditional Egyptian family is faith. The majority are Muslim and practice Sunni Islam as dictated by Sharia law which regulates all aspects of life from marriage to inheritance laws. This faith in God provides a strong foundation on which families build trust in each other no matter what challenges may arise along the way.

In terms of structure, extended households tend to be quite common with multiple generations living together under one roof or nearby each other. Family members are expected to pitch in with household chores with women generally taking on most domestic responsibilities such as cooking, cleaning, and childcare while men take care of heavier duties like repairs or construction projects. Family values revolve around respect for elders, loyalty towards siblings, hard work, education, and helping out those less fortunate.

Generosity within relationships is highly valued since it reinforces trust between individuals. Parents pass down knowledge through stories about their ancestors so that younger generations can learn from past successes or mistakes made by them. Egyptians love celebrating special occasions too!
Trip to Egypt Pyramids Cost
Are you dreaming of a trip to Egypt and its majestic Pyramids? Whether it's your first time in the country or you've been there before, the experience is sure to be unforgettable. But how much will such an adventure cost?

Let's take a look at some of the expenses associated with a trip to see the famous pyramids of Egypt. The most significant expense associated with any trip is usually airfare. To get from North America or Europe to Cairo, expect to pay anywhere from $500-800 for economy-class tickets.

Prices can vary significantly depending on which airline carrier you choose and when you book your ticket. Once in Cairo, transportation costs should also be taken into account as it's likely that you won't have access to a car during your stay; although taxi fares are relatively inexpensive, it may prove more economical over multiple trips if rented vehicles like scooters or minivans are available for hire locally (expect roughly $50/day). Accommodation fees should also be factored into the budget equation; hotels in downtown Cairo tend to range between $30-$100 per night while hostels start around 10/per night and go up depending on amenities offered (a private room can be upwards of 40$).

There are many Airbnb options too so having an idea ahead of time as to what type of accommodation would fit best within one's budget is advisable before booking travel arrangements.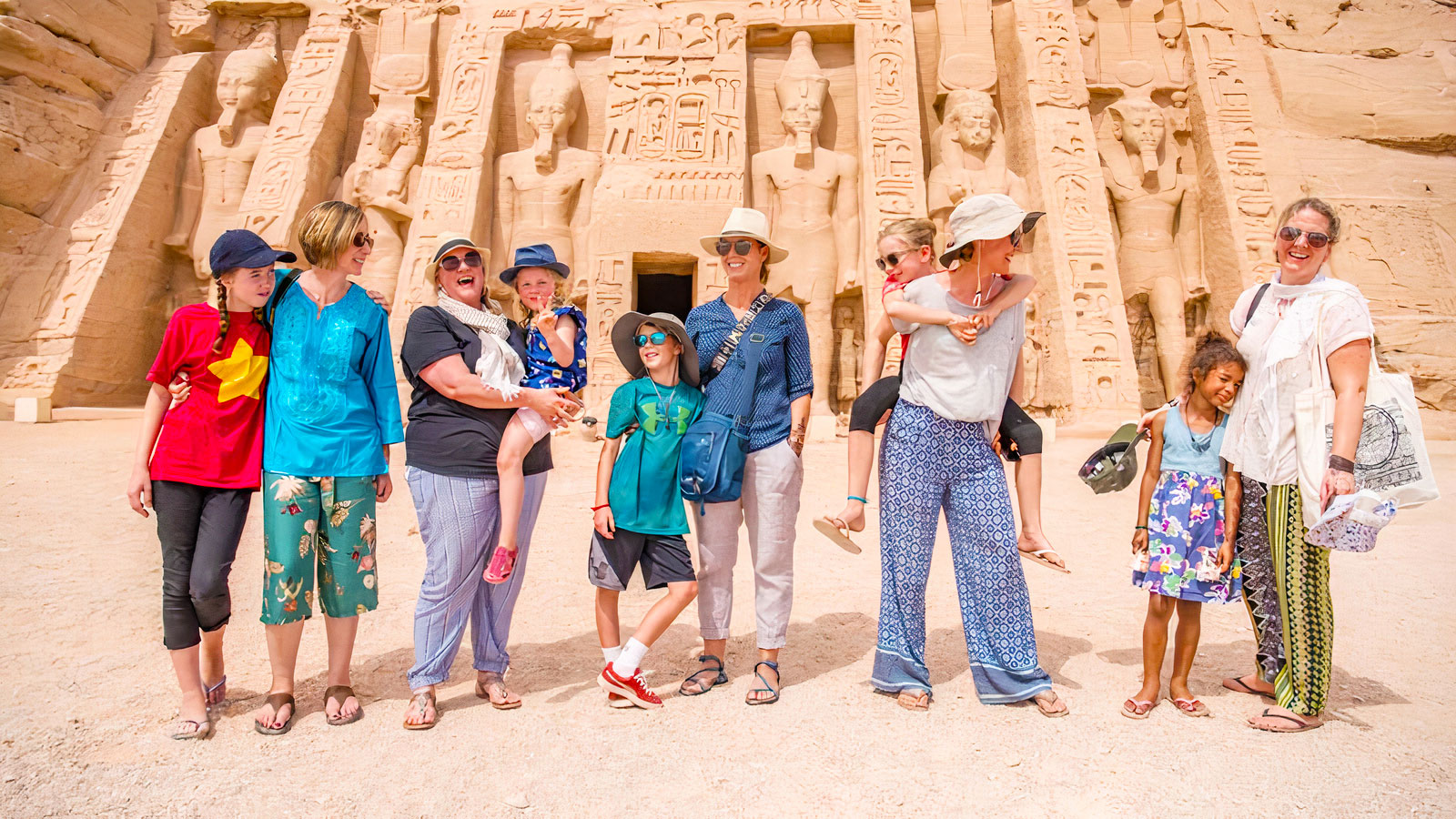 Credit: www.egypttoursportal.com
Is Egypt a Good Place for a Family Holiday?
Egypt is a great place for a family holiday, offering plenty of unique and exciting experiences. With its rich culture, stunning scenery, and ancient sites, it's the perfect destination to explore as a family. First off, Egypt has an incredible variety of activities to keep both children and adults entertained.

Adventurers can embark on desert safaris or take boat trips down the Nile River while history buffs will love exploring ancient monuments like the Great Pyramids of Giza or the Karnak Temple Complex in Luxor. Beach lovers should head to Dahab on the Red Sea coast for some swimming, snorkeling, or diving opportunities. Plus there are plenty of markets around Cairo where you can find souvenirs and gifts for your loved ones back home!

When it comes to safety, Egypt is generally considered safe so long as travelers stick to tourist areas and exercise basic caution when out sightseeing – just like any other country in the world. Tourists are well looked after by locals who are used to having visitors from overseas come through their cities each year; most people speak English so communication shouldn't be an issue either! Accommodation in Egypt ranges from budget-friendly hostels right up to luxurious resorts – so whatever kind of stay you're looking for, you should be able to find something suitable here.
Where is Best for Family Holiday in Egypt?
If you're looking for a family holiday that is sure to please all members of your clan, then Egypt should be at the top of your list. With its ancient history and world-famous attractions, there is no shortage of things to do and places to explore in this incredible country. Whether you're looking for adventure or relaxation, Egypt has something for everyone.

One great place for a family holiday in Egypt is the Red Sea coast. Here you will find stunning beaches with crystal-clear waters perfect for snorkeling and scuba diving. There are also plenty of water sports activities including wakeboarding, windsurfing, kayaking, and more!

The kids can even take part in some fun camel rides on the beach! Not only that but there are plenty of other attractions nearby such as Luxor Temple or Valley Of The Kings which are always worth checking out while you're here too! The Mediterranean Coast offers another great option if your goal is to relax on beautiful sandy beaches while soaking up some sun during your family vacation in Egypt.

This area boasts picturesque views and tranquil surroundings making it ideal for those seeking rest and relaxation away from home – plus the kids can enjoy swimming or building sandcastles along the shoreline too!
How Much Does a Vacation to Egypt Cost?
If you're looking for an unforgettable vacation, a trip to Egypt is sure to be an exciting and unique experience. But before you start planning your dream getaway, it's important to understand how much a vacation to Egypt may cost. The first thing that will affect the overall cost of your Egyptian vacation is the length of your stay.

A shorter trip may range from $1,000-$2,500 per person depending on where you want to go in Egypt and what type of accommodations you plan on staying in. If you plan on extending your stay longer than 10 days or so, expect prices to increase; this could easily raise the total price up closer to $3,000+ per person depending on the activities planned during the trip (such as tours). Airfare can also significantly add onto costs – flights from North America typically average around $1,200 round-trip while international flights may exceed $2,000 each way.

Travelers should also factor in additional fees such as visa applications ($25) and departure tax ($25). Accommodations are another expense travelers need to consider when budgeting for their Egyptian holiday since hotel rates vary throughout different regions of Egypt; hotels located within major cities like Cairo tend to be more expensive compared with areas outside city centers which offer cheaper options but come with reduced amenities and services.
Is Egypt Cheap for Vacation?
If you're looking for a vacation destination that won't break the bank, Egypt may be just the place. With its unique culture, ancient architecture, and stunning landscapes, it's no wonder why Egypt has been gaining popularity as an affordable travel destination. Accommodations are usually inexpensive in Egypt compared to other countries in Europe or North America.

Hotels range from budget-friendly hostels to luxury resorts – so you can find something within your price range regardless of how much money you have to spend. When it comes to food and drinks, costs vary depending on where you go; however, meals can generally be found for under $5 USD per person. Some tourist areas like Luxor and Sharm el Sheikh may be pricier than other places but there are plenty of restaurants serving delicious local dishes at more reasonable prices if you venture away from the main tourist spots.

Transportation is also relatively inexpensive in Egypt – taxis typically charge around 2-3 EGP ($0.13-$0.19 USD) per km while buses cost between 1-2 EGP ($0.06-$0.13 USD). Another great option is using Uber which is becoming increasingly popular throughout the country; fares start at 5 EGP ($0 031 USD). If getting around by car isn't your thing then there are plenty of trains and ferries available too!
Egypt New Year 2022 – Family trip
Conclusion
Are you planning a family vacation to Egypt? There are plenty of exciting activities and attractions for the whole family. From visiting ancient ruins, and exploring vibrant cities, to relaxing on beautiful beaches – there is something for everyone in this amazing country!

For adventure seekers, take a hot air balloon ride over the pyramids or explore the desert by camelback. If history is your thing, visit the Valley of Kings and Queens or The Egyptian Museum which houses more than 120,000 artifacts from Ancient Egypt. You can also go snorkeling in the Red Sea or take a cruise down the Nile River.

There are plenty of kid-friendly activities too like swimming with dolphins at Hurghada or visiting Giza Zoo where you can see tigers and giraffes up close. For shopping lovers, head to Khan el Khalili Bazaar in Cairo where you can find souvenirs and local products such as spices and jewelry. And if all that wasn't enough; foodies will love trying out delicious traditional dishes like falafel and koshari while taking in stunning views overlooking riverbanks!

So what are you waiting for? Pack your bags now because an unforgettable trip awaits!