Explaining of Jordan And Egypt Tours. Jordan and Egypt are two neighboring countries famous for their ancient monuments, cultural heritage, and religious sites. A tour of these two countries can be a fascinating experience. In Jordan, tourists can visit the ruins of Petra, believed to have been established as early as 312 BC; Jerash with its Roman ruins; Wadi Rum desert with its vast sand dunes; Madaba is known for its Byzantine mosaics; Amman's Citadel with various archaeological remains from different eras.

In Egypt, tourists will find numerous attractions like the Pyramids of Giza – one of the Seven Wonders of the World; Karnak Temple Complex in Luxor which was constructed over 2000 years ago; Abu Simbel temples dedicated to Ramses II and his wife Nefertari on Lake Nasser's shoreline along with many other places steeped in history. Both countries offer tours that include visits to all major sites plus accommodation at some main cities so visitors should make sure they book a suitable package depending on their preferences.
If you're looking to explore the Middle East, then a Jordan and Egypt tour is the perfect way to do it. From exploring ancient monuments in Cairo and Petra to taking in the serene beauty of Wadi Rum and the Dead Sea, this combination package offers something for everyone. Egypt is full of historic sites that date back thousands of years ago.

Touring through Cairo allows travelers to see some of its most iconic landmarks including the Giza Plateau with its Pyramids and Sphinx, as well as other lesser-known attractions like Islamic Cairo or Coptic Christian churches. Taking a Nile Cruise from Luxor up north will give visitors an even deeper insight into Egyptian culture with guided tours along temples built by Pharaohs such as Karnak Temple Complex or Abu Simbel Temples. In addition to Egypt's rich history, Jordan provides a unique experience all its own.

For starters, take a jeep tour through one of the world's largest natural sandstone formations at Wadi Rum desert where Bedouins still live today in traditional tents made out of animal skins! Then make your way over to Petra which was once used by Arab traders as far back as the 4th century BC; there you can find hundreds of ornately carved tombs called "Al Khazneh" (the Treasury).
Best Tour Companies for Egypt And Jordan
If you're looking for the ideal tour company to help you experience Egypt and Jordan, then look no further. With so many options available, it can be difficult to decide which one is right for you. That's why we've compiled a list of the best tour companies that offer trips to these two countries.

The first company on our list is Intrepid Travel. This well-known travel organization offers an array of tours throughout Egypt and Jordan, from budget-friendly experiences all the way up to luxury packages that include airfare and accommodations. What makes them stand out among other tour companies is their commitment to responsible tourism; they strive to give back to local communities in each destination they visit by supporting sustainable projects such as education initiatives or renewable energy sources.

Plus, their knowledgeable local guides will ensure you get an authentic experience during your travels! Another great option for experiencing both Egypt and Jordan is Exodus Travels. Located in London, this company provides guided small group tours with a maximum size of 16 people, allowing travelers more personalized attention than larger groups would receive.

They also focus on cultural immersion while also providing plenty of time for sightseeing at popular attractions like Petra or the Great Pyramids of Giza – making it easy for visitors to see all that these countries have to offer in just one trip!
Egypt And Petra Tours
If you're looking for an unforgettable travel experience, then an Egypt and Petra tour should be at the top of your list. Visiting both countries offers a unique chance to witness some of the most spectacular sights in all of antiquity. From the breathtaking Great Pyramids and Sphinx at Giza to Petra's mind-blowing rock-cut architecture, this incredible journey through two ancient civilizations will leave you with lasting memories that will never fade.

When traveling to Egypt, it's important to plan ahead as there are many fascinating sites to explore throughout the country. Some must-see attractions include: • The Valley of Kings – This is one of Egypt's most famous archaeological sites located on the west bank of Luxor where Pharaohs were entombed and buried for thousands of years until their amazing discovery in 1922 by British archaeologist Howard Carter.

Here you can view some remarkable tombs including King Tutankhamun's tomb which was filled with treasures from his reign as pharaoh more than 3,000 years ago! • The Great Pyramids & Sphinx – A visit here is perhaps one of the most iconic experiences any traveler could have while visiting Egypt! Located just outside Cairo, these awe-inspiring structures are constructed from massive stone blocks weighing up to 2 tons each which were quarried over 500 miles away and transported using boats along rivers or dragged on sleds across the land.
Egypt And Jordan Tours With Nile Cruise
When you think of a vacation, the first thing that usually comes to mind is sun and sand. But if you're looking for something a little different, then why not consider an Egypt and Jordan tour with Nile Cruise? This incredible journey will take you through some of the most iconic sites in both countries while giving you the chance to experience local cultures and explore ancient wonders.

Your Egypt and Jordan tour with Nile Cruise will begin in Cairo where you'll be able to visit the Great Pyramids of Giza and marvel at their grandeur up close. From there, your guide will take you on a visit to Saqqara Pyramid Complex before heading off toward Aswan. During your time in Aswan, you'll have plenty of opportunities for sightseeing as well as taking part in activities such as sailing on traditional felucca boats along the banks of the River Nile or visiting temples like Philae Temple or Abu Simbel Temples – two UNESCO World Heritage Sites.

The following day, it's time to board your luxurious cruise ship which will transport visitors downriver from Aswan all way past Luxor until finally reaching Edfu temple – one of Ancient Egypt's best-preserved monuments located just northeast of Luxor city.
Egypt And Jordan Itinerary 7 Days
Are you looking for an unforgettable 7-day tour of Egypt and Jordan? Look no further! This itinerary will take you through two of the most fascinating countries in the Middle East.

You'll explore ancient ruins, marvel at stunning landscapes, eat delicious local food, and more. Here's what to expect from this extraordinary trip: Day 1: Arrive in Cairo, Egypt – The first day is all about getting acclimatized with your new surroundings.

Spend some time exploring the city's iconic sites such as the Pyramids of Giza, the Great Sphinx, and the Khan el-Khalili bazaar before heading to a traditional dinner and overnight stay in Cairo's vibrant downtown area. Day 2 & 3: Explore Luxor – After breakfast on Day 2 travel by plane or train to Luxor where you can spend two days discovering its wealth of archaeological wonders including the Karnak Temple Complex and Valley of Kings. Don't forget to also visit temples dedicated to gods like Horus and Sobek while enjoying hot air balloon rides over vast desert plains.

Day 4 & 5: Travel To Jordan And Experience Petra – On Day 4 hop on a flight or ferry boat from Aqaba Port for Amman, Jordan's capital city located just across from Israel's Red Sea coastline. Then it's off to one of the world's seven wonders – Petra!
G Adventures Egypt And Jordan
If you're looking for an exciting and unique way to explore the ancient sites of Egypt and Jordan, then G Adventures has just the trip for you. With their exclusive Egypt & Jordan tour, visitors can experience two countries in one amazing adventure. From exploring the spectacular Great Pyramids of Giza to wandering through Petra – one of the oldest cities in the world – this journey is sure to be unforgettable.

The journey begins with a flight from Cairo International Airport into Amman, Jordan where travelers will spend two days visiting some of its most historic spots like Jerash and Mount Nebo. After soaking up all that Jordan has to offer, it's time for travelers to head south towards Aqaba where they will board a ferry across The Red Sea into Taba before continuing on their way into the Sinai Peninsula. Here visitors can take part in activities such as snorkeling or camel trekking, as well as get a closer look at St Catherine Monastery which was built by the Byzantine emperor Justinian I over 1,500 years ago!

After crossing back over The Red Sea from Nuweiba Beach they will make their way towards Dahab and end up at Luxor – home to some of the best-preserved monuments in Egypt including the Valley Of Kings and Karnak Temple Complex.
Tours of Egypt And Jordan 2023
Egypt and Jordan are two of the most majestic countries in the Middle East. Both offer a unique combination of ancient history, breathtaking landscapes, vibrant culture, and incredible cuisine. If you're looking for an unforgettable travel experience in 2023, a tour of Egypt and Jordan is certainly one to consider!

A guided tour through both countries will give you the opportunity to explore some of the world's oldest civilizations while visiting sites like Giza's Great Pyramids or Petra, one of the Seven Wonders of the Ancient World. You'll be able to gain insight into ancient Egyptian tombs at Luxor Temple before venturing out on a camel ride in the Wadi Rum desert where Lawrence Of Arabia was filmed. Experience traditional Bedouin hospitality with overnight camping beneath starlit skies surrounded by sandstone mountains that seem straight from another planet.

On your journey through these two remarkable countries, you can also discover what locals call "the hidden gems". Visit small towns off-the-beaten track such as Aswan or Dahab where colorful markets provide endless souvenirs for every budget. Take part in activities such as bird watching along Lake Nasser or snorkeling amongst colorful coral reefs near Aqaba city – home to beautiful Red Sea beaches with crystal clear waters perfect for swimming and sunbathing all year round.

And don't forget about trekking up Mount Sinai which is said to have been where Moses received The Ten Commandments!
Private Tours Egypt And Jordan
If you're looking for a unique way to experience the beauty of Egypt and Jordan, then look no further than private tours. Private tours offer travelers an exclusive and personalized journey that will ensure they get the most out of their visit. Whether you want to explore ancient sites like the Great Pyramids or take in majestic views from atop Mount Sinai, private tours provide a one-of-a-kind experience that is tailored specifically to your interests.

Private tours can be either part of larger group excursions or customized itineraries created just for you and your party. If you choose a large group tour, you'll have the opportunity to meet new people while seeing some of the best sights each country has to offer. On these trips, experienced guides lead participants through popular attractions such as Luxor Temple or Petra while providing interesting facts about each site along the way.

You also have access to comfortable transportation between locations so that travel time doesn't detract from your overall experience. For those who prefer more intimate experiences with fewer crowds, custom tours are available too! These packages include all sorts of activities such as Nile cruises aboard traditional feluccas (Egyptian sailboats), hot air balloon rides over historical landmarks in Cairo, 4×4 jeep safaris around the Wadi Rum desert (Jordan), camel rides through the Giza Plateau pyramids & Sphinxes…the list goes on!
Egypt And Jordan Tours from Uk
Are you looking for an unforgettable vacation that combines the ancient world with modern comforts? If so, a tour of Egypt and Jordan from the UK could be just what you need. This is one of the most popular tours available in the region, and it offers something for everyone: from sightseeing to shopping to adventure.

The first stop on these exciting itineraries is usually Cairo – home to some of the oldest monuments in human history. Visitors can explore ancient sites such as Giza's Great Pyramid complex or take a leisurely boat ride along the Nile River. From here, travelers can head south through Luxor and Aswan to delve deeper into Egypt's rich cultural heritage at temples like Karnak or Abu Simbel.

After exploring southern Egypt, travelers will likely venture east across the Red Sea into Jordan where they can visit its famous cities – Amman, Petra, and more! While there, visitors will have plenty of time to wander through bazaars packed with colorful souvenirs or even go on desert safaris complete with sandboarding excursions! In addition to all these amazing activities available during an Egyptian/Jordanian tour package from England, participants also have access to top-notch accommodations throughout their journey.

Most packages include deluxe hotel stays in both countries which provide guests with amenities such as swimming pools, spas, restaurants & more! These luxurious lodgings offer much-needed rest after a full day of exploration too.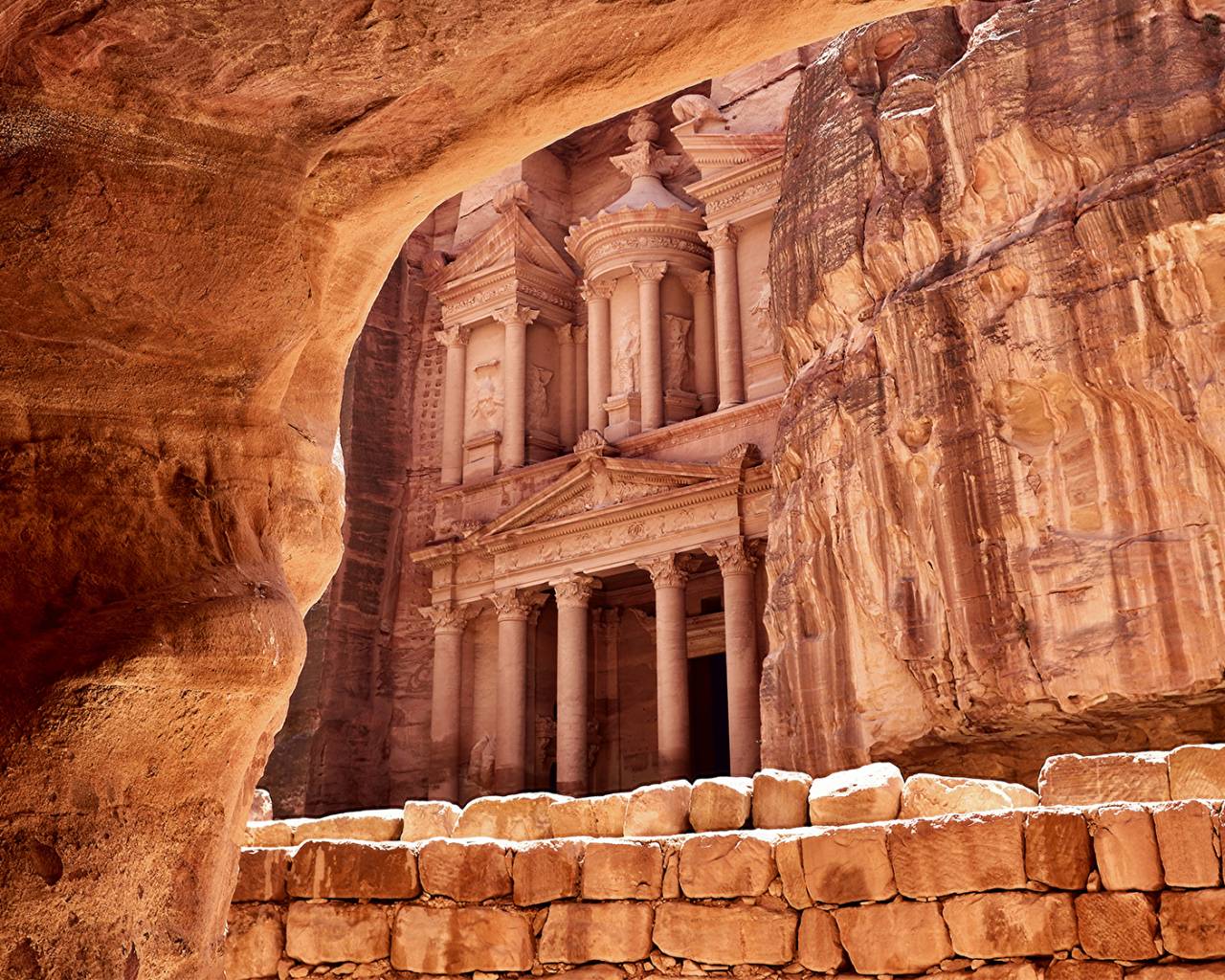 Credit: www.onthegotours.com
What is the Best Time to Visit Egypt And Jordan?
If you're looking for the perfect time to visit Egypt and Jordan, you should consider traveling during spring or fall. These two seasons offer mild temperatures and plenty of sunshine, making them ideal times to explore these countries' historical sites, natural wonders, and cultural experiences. Egypt is best visited between March and May or September through November.

You can expect comfortable daytime temperatures during these months that range from 65–85°F (18–29°C). Furthermore, rainfall is minimal in the springtime while humidity levels are low in the fall – both of which make exploring Egypt's ancient monuments more enjoyable. Jordan offers a similar climate with mild temperatures ranging from 55°F (13°C) in January to 85°F (29°C) in August.

The most popular time to travel here is late October through early April as this avoids much of the summer heat but still allows for plenty of sightseeing opportunities since days are generally sunny at this time. However, visitors should be aware that some areas may experience heavy rain on occasion so be sure to pack accordingly! No matter when you decide to visit Egypt and Jordan, there will always be something interesting waiting around every corner – from visiting vibrant bazaars filled with local craftsmen selling their wares to strolling along majestic desert landscapes teeming with wildlife!
How Many Days to Visit Egypt And Jordan?
If you're looking to experience the ancient wonders of Egypt and Jordan, there's no better way than with a two-week vacation. A two-week trip will give you enough time to explore all the sights and sounds these two countries have to offer without feeling rushed or overwhelmed. In Egypt, it is recommended that travelers spend seven days in Cairo exploring the city's famous attractions such as the Pyramids at Giza, Sphinx, Egyptian Museum, and more.

Afterward, consider traveling south along the Nile River for another five days where you can visit Luxor's Valley of Kings and Queen Hatshepsut Temple among other sites before heading back up north for your final day in Cairo before moving on to Jordan. In Jordan, focus your attention on its biblical sites such as Mount Nebo from where Moses saw Israel, or follow in Jesus' footsteps by visiting Bethany Beyond The Jordan – just some of many holy religious places located here. Be sure not to miss out on Petra either – one of the UNESCO World Heritage Sites listed by UNESCO and a great spot for taking photos!

On top of this make sure you check out Amman Citadel (a Roman fort), and Jerash Ruins (ancient Greek & Roman ruins) which are both must-sees while touring around this country over four days should suffice here too. Overall if sightseeing is what interests you then plan your itinerary accordingly so that every day counts!
How Do I Get from Jordan to Egypt?
If you're planning a trip to the Middle East and want to explore both Jordan and Egypt, getting from one country to the other is surprisingly easy. Whether you choose to travel by air, land, or sea, there are several ways for visitors of either country to get from Jordan to Egypt in a safe and enjoyable way. Traveling By Air:

The most popular mode of transportation between Jordan and Egypt is flying. There are numerous airlines that offer direct flights between Amman (Jordan) and Cairo (Egypt). These include Royal Jordanian Airlines, Saudi Arabian Airlines, Kuwait Airways, Etihad Airways, and many more.

Flights typically range between two hours and 10 minutes up to three hours and 15 minutes depending on the airline chosen. Prices can vary greatly so it's best to compare different options before making a final decision. Traveling By Land:

Another option for those looking for an overland route is traveling by bus or car through Israel via the Arava border crossing at Eilat/Aqaba. The journey usually takes about four hours but may take longer due to road conditions or customs delays at border crossings which can add time onto your overall journey time as well as cost extra money if stopped by police officers along the way.
How Many Days in Egypt is Enough?
Egypt is a land of wonders, with ancient pyramids and monuments that are still standing today. It's also home to some of the world's most iconic sites such as the Great Pyramids of Giza, Valley of the Kings, Karnak Temple Complex, and Luxor Temple. With so many incredible places to visit in Egypt, it can be difficult to determine how long you should stay there.

The answer really depends on what your interests are and what type of experience you're looking for. For those who want a comprehensive tour of Egypt's history and culture, two weeks would be sufficient time for an enjoyable journey across this fascinating country. During these 14 days, visitors could explore Cairo (the capital city), venture into the desert oasis town Siwa or take a cruise down the Nile River from Aswan to Luxor stopping along the way at archaeological sites such as the Abu Simbel temple complex or Edfu Temple.

Additionally, travelers can spend a day visiting one of Egypt's numerous beaches located along its Mediterranean coast or take part in local activities like snorkeling in Hurghada or riding camels through sand dunes near Sharm el-Sheikh while admiring breathtaking sunsets over Red Sea waters.
EGYPT & JORDAN | Ep1: Solo Backpacking Egypt
Conclusion
If you're looking for an unforgettable adventure, then a tour of Jordan and Egypt is the perfect way to experience two amazing countries in one trip. From exploring ancient cities such as Petra in Jordan to marveling at the majestic pyramids of Giza in Egypt, this itinerary offers something for everyone. The tour includes all-inclusive accommodation, transportation between sites, and plenty of sightseeing opportunities.

You can also take part in activities like snorkeling or camel riding depending on your preference. Whether you're looking for an educational journey through history or simply want an exciting vacation filled with culture and adventure, this is the ideal trip for you!